A little Okole Maluna in Bologna
A must stopover in Bologna is the Nu Lounge Bar in the centre of town. GoUnusual superstar Princess Roxy spoke to partner Daniele Dalla Pola about how his bar was "tiki-fied"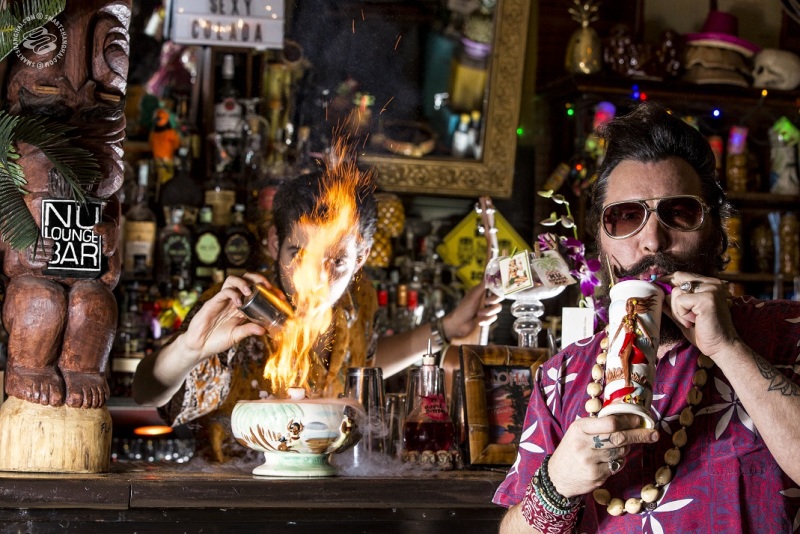 GU: So when did it all start?
DDP: We have to go way back: I started this profession at 17, and after a couple of years behind the bar I took off for Milan to work in some of the trendier bars in town. Then I decided to realize my dream to live in Miami. I spent 14 years there and I learned a lot. I rose through the ranks to manage an Italian restaurant on Lincoln road called Tiramesù, and I opened the Segafreddo Cafè as General Manager, as well as organizing private parties in South Beach.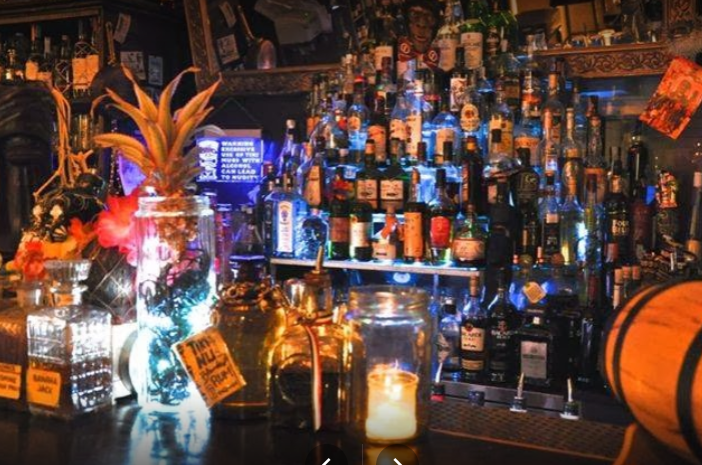 GU: What brought you back to Italy?
DDP: In 2001 after my experience in the US, I felt it was time to show Italy what I had learned. Of course, a woman has something to do with it too.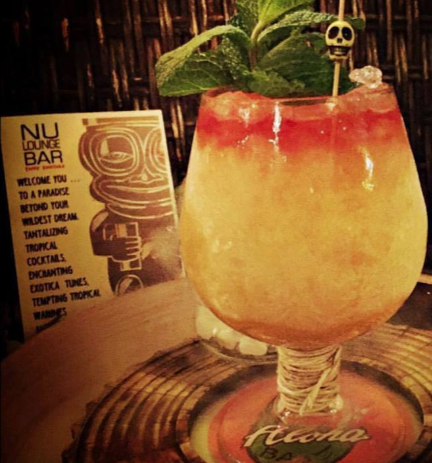 GU: And how did Nu Lounge Bar come about?
DDP: This place was bookstore and it took a lot of work to bring it up to code as a bar. After my stint in Miami I wanted to bring some of the cool Miami cocktails I had been serving to Bologna. Back in the day, ours was the first Italian bar to serve the Cosmopolitan, and cranberry juice was impossible to find--I had to bring it directly from the States.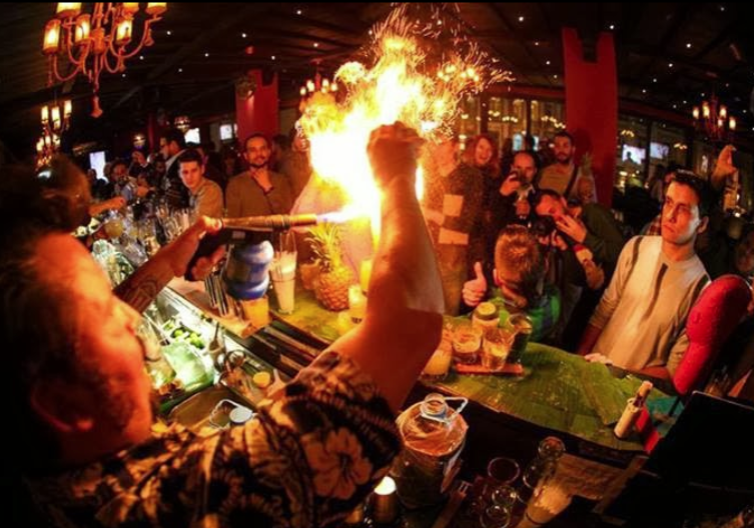 GU: What else did you propose?
D: We used to do a lot of tropical drinks, like Pina Colada, Sex on the Beach and that kind of thing, and we had a huge selection of vodka. We got our collection thanks to my ex-wife who worked in the fashion industry.
GU: How so?
DDP: After a show she would receive gifts from a Russian client, and this was usually in the form of a good vodka. She would pass these on to me for my collection, and I started to get bolder—I asked her to start requesting specific vodkas I didn't have. My collection rose to 35 different vodkas, probably the most extensive in Italy at the time. Needless to say our cocktail list was quite heavy on vodka based drinks.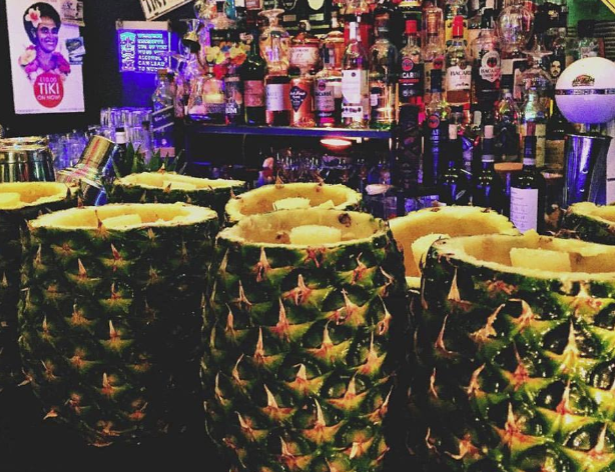 GU: When did you make the move to tiki?
DDP: It was a gradual thing. I was doing a lot of reading and traveling, and I went to San Francisco and Hawaii to go to the roots of the tiki movement. Don the Beachcomber is my guru and I really admire his contemporary Beachbum Berry. The drinks and the history were fascinating, and I started collecting rums, tiki glasses, and memorabilia that I used to decorate the bar. I now have a collection of 220 tiki mugs. Slowly the vodka-based drinks disappeared and the menu was more tropical tiki based. Since around 2011, the printed menu is totally tiki.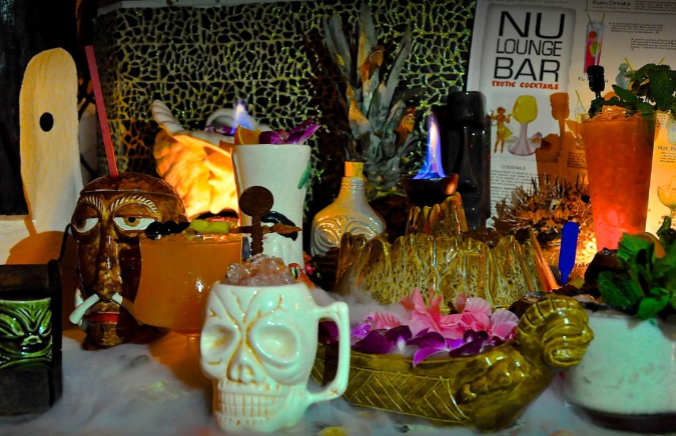 GU: How is your tiki bar different from others?
DDP: First, we call ourself a "tiki-style" bar, as we are in a historic building and can't make any changes outside, and second, we make many of our own syrups and even our own brandy. For our Missionary's downfall, instead of an obscure peach brandy that is called for, we developed our own. Every August I purchase 150 kilos of peaches from a local farmer and we infuse it for 3 months in a brandy made in Bologna, with the addition of honey and sugar. So my peach brandy is genuinely farm-to-table… or rather farm-to-bar.
GU: Can you describe some of your more unusual drinks?
We have the volcano bowl for two that comes with smoke and fire, and monster treasure chest that serves up to 15 people. But probably the most unusual one is the mystery love potion that comes with a ukulele serenade by Kevin.We also have the sexy pina colada and you get to take the mug home. And we have a couple of bottled cocktails like the elixir d'amore… as they say, sex sells…need I say more?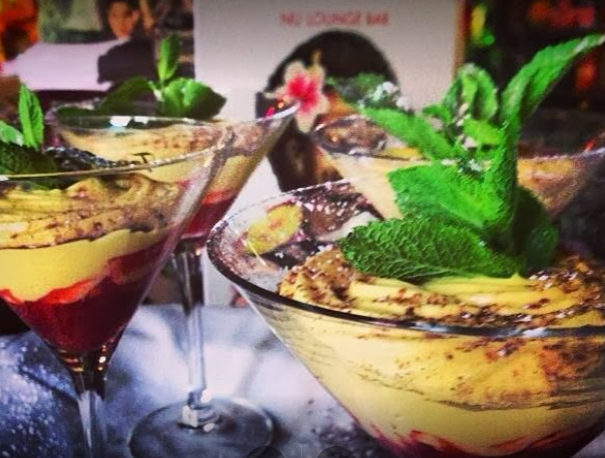 GU: Well, yes, you signed your menu Okole Maluna, what does it mean?
DDP: It's a Hawaiian expression and it means "bottoms up".
GU: I think you just gave me the magic word to your kingdom.
Mahalo, Daniele!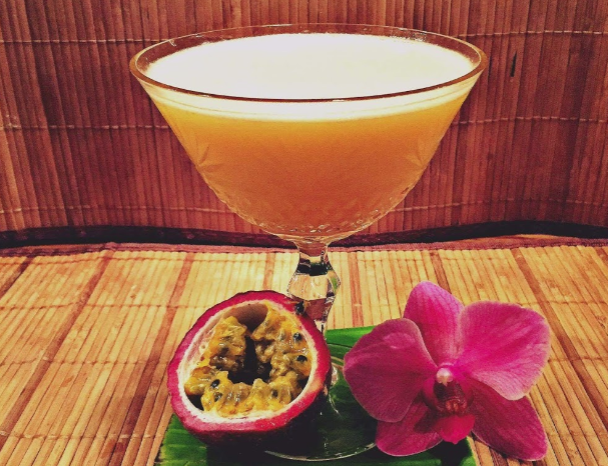 The Crew
Daniele Dalla Pola
Kevin Osbat
Niko Fontana
NU Lounge Bar
BOLOGNA - VIA DE' MUSEI, 6
TEL. 051 222532
WWW.FACEBOOK.COM/NULOUNGEBAR
Daniele's kingdom is growing, he also runs the restaurant Buca San Petronia, and he just opened a new place called Foodies with the largest Bloody Mary menu you have ever seen. https://www.facebook.com/FoodiesBologna/