Stefano Callegari backs pizza into a corner with his invention :Trapizzino…
I will never think about pizza in the same way again. My great friend Giacomo took me to Tonda, a seemingly non-descript pizzeria in the northern suburbs of Rome. This is one of the three locations where Stefano Callegari works his magic. Stefano, an ex-airline steward, is a grand experimentalist. He made an audacious move when he set out to re-invent the pizza, one of the most sacred and iconic foods in Italy.
We start with his traditional pizza, but the only traditional thing about them is the shape. We chose the signature cacio e pepe variety. Cacio is a strong cheese used in a famous Roman pasta dish with lots of black pepper (pepe). There is no tomato sauce on this pie. Stefano uses a special flour sourced from a mill in Padua and when the dough is ready, after 24 hours of leavening, he places ice cubes on the dough when placing it in the wood oven. This keeps the dough moist and helps the cheese stick to the pizza. When the pizza comes out, the grated cheese is sprinkled abundantly on top and a black pepper mill is served right on the plate.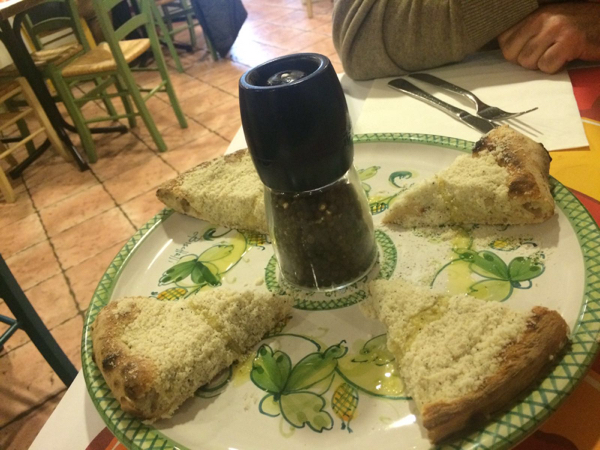 Cacio cheese doesn't melt, and you have to taste it to believe it.
Another speciality is supplì, balls of rice and sauce that are breaded and fried—crispy outside, deliciously gooey inside. A gazillion calories, but sometimes you just have to go for it.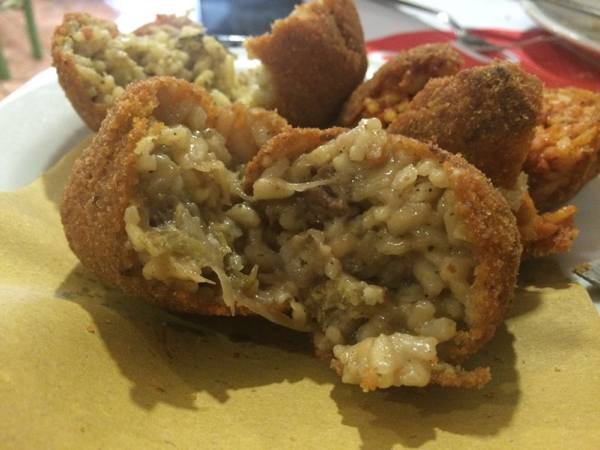 2008 was his a-ha moment when he perfected the trapizzino- a contraction of tramezzino (triangular sandwiches that are popular here) and pizza.
Stefano describes it as a scarpetta to go. Scarpetta means "little shoe" and it means when you "clean your plate" with a piece of bread at the end of a meal. It is definitely not good manners but a huge compliment to any chef. Here is how Stefano makes it: in the morning he makes a huge batch of pizza bread- golden on the outside, light and fluffy inside. He cuts this bread into squares, then triangles, and slits the top open.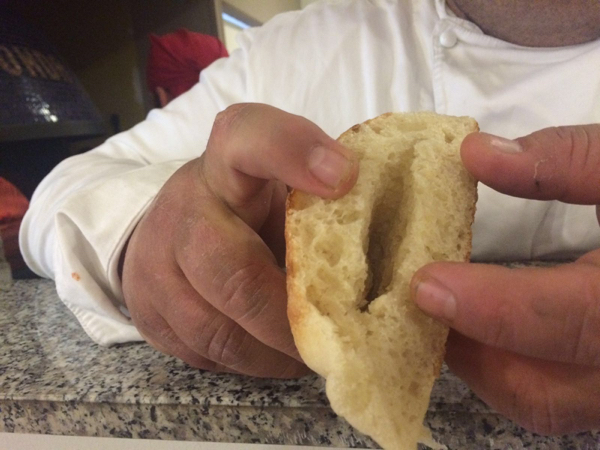 Next he reheats the bread in an oven until it becomes nice and crispy on the outside. It was so crunchy I actually thought it was fried, as I mentioned on the video. The finishing touch is the addition of his toppings, which change constantly and are posted on a big blackboard on the wall. There are at least a dozen different sauces to choose from: meatballs, chicken cacciatore, tripe…there is one with Stilton cheese and a reduction of port wine, or if you want to walk on the wild side - with escargot. The sauce is piled high and it oozes into the soft bread with the slit.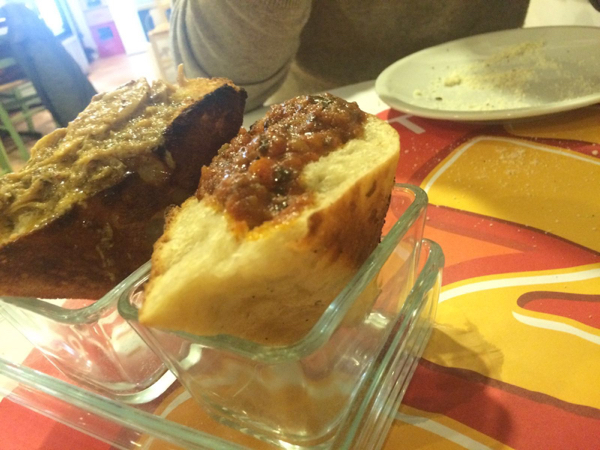 The trapizzino is served like a cone in a glass and it is quite messy to eat. Words cannot describe how good it is.
Too good to confine inside of Italy's borders, the creation has made it to Japan and will be launching in Los Angeles and New York this summer. Stefano trains his overseas partners for months before he lets them spread the joy abroad.
Stefano, I am most definitely in your corner! When in Rome, you can find the addresses here www.trapizzino.it as well as Tondo and Sforno pizzerias.
Go Unusual!