Roxy and her sidekick daughter just spent a whirlwind 48 hours in the Eternal City and it was just like a page out of La Dolce Vita.
First stop, Retrome, the vintage inspired guest house just behind the Colosseum. We scored the biggest room, an apartment with a little kitchen, terrace and can sleep 4. Did I mention I shared my room with Sean Connery and Ursula Andress? Just look!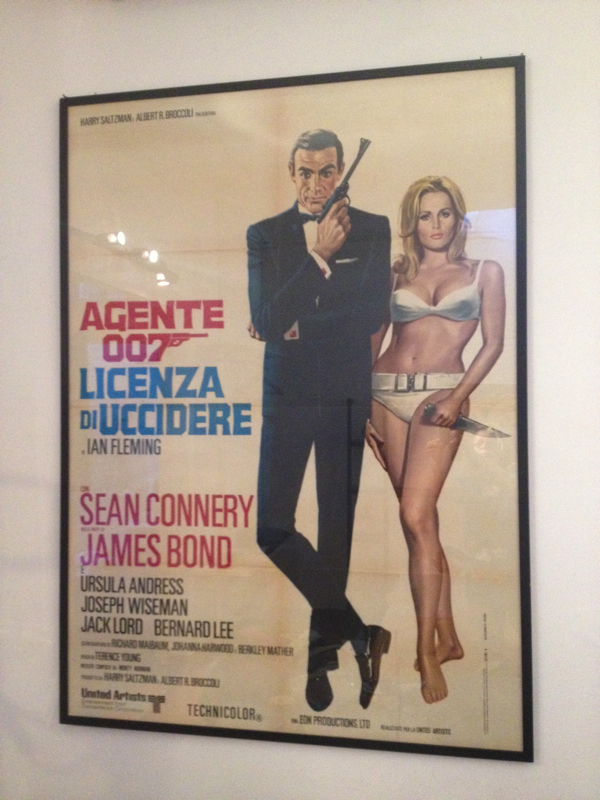 Our room was chock full of 60' and 70's collectables like portable tvs (two!) and lamps just like your old Aunt Mildred's, check it out.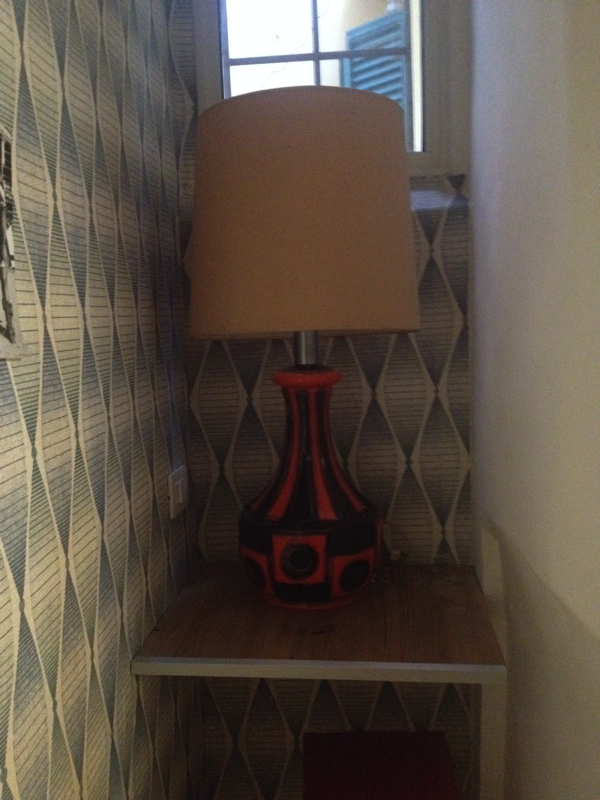 The staff were really helpful and offered us a map of the neighborhood and a list of their favorite places.
But we knew exactly where to go-- Monti, one of Rome's oldest neighbourhoods, what are known here as rioni.
Full of independent shops and boutiques, it was hard to resist popping in every one to hear the story of how the artisan ended up here-- like Tina Sondergaard, a Danish expat and mom to twin teen-aged girls; she opened her own dress shop. "I've always be obsessed by 50s style and when I was living in Paris. I used to buy old dresses because I liked the fabric, then I would take them apart and turn them into new dresses. Each year I offer a few designs, and propose them in many different fabrics".
Her styles are timeless and my daughter was drawn to a green print, which fit perfectly. Tina hemmed it and we had it back the very next afternoon.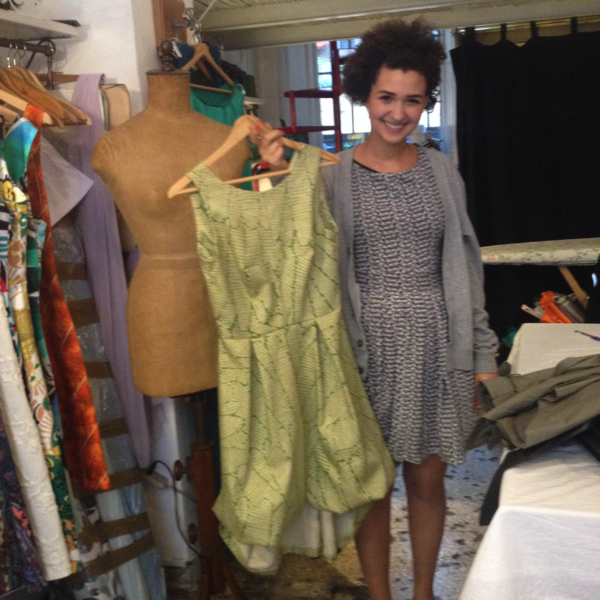 This woman is truly inspiring: listen to her story: An out of work friend of mine told me she'd like to start a new business with me. I suggested a shoe and handbag shop which would compliment my dress shop nicely. Storefronts in Monti were expensive, and scarce. We decided on a budget. That very day, a sign appeared on a shop just a block away and I phoned the number. The owner lived right upstairs showed me the shop. I was beautiful, just perfect... but how much was the rent? Well, he asked EXACTLY the amount we had set as our budget! Destiny!
The shop, Colpi di tacco has a colorful selection of custom made bags and shoes, it's a place that radiates happiness. Tina says: We're all about empowering women, and we just created the Wo Wo bag- aka Working Woman. The bag is designed to hold an ipad, credit cards, and all the things a busy lady needs, with a secret compartment in the bottom for an umbrella!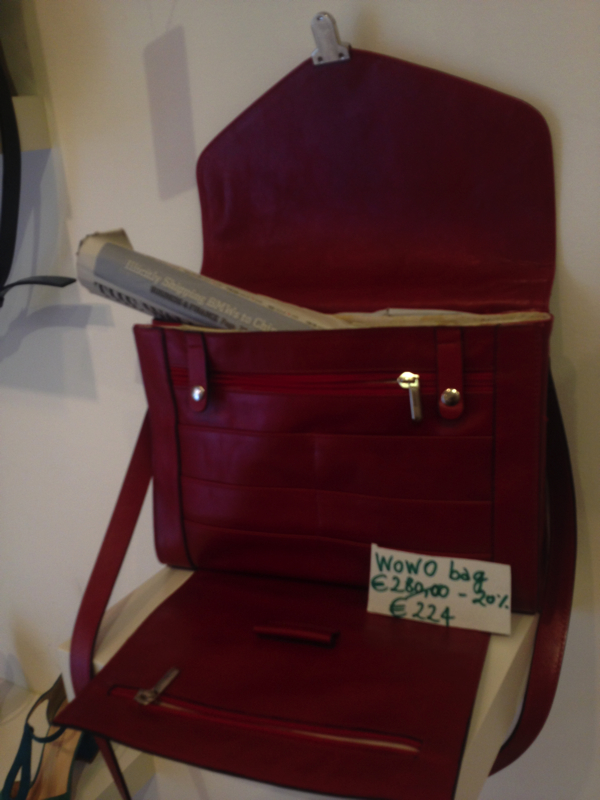 Time to eat in this fascinating rione. Urbana 47, is a supercool hangout for lunch, snacks or dinner The décor is flea market flash, and the menu features locally sourced specialties, many of which are also on sale in the little shop in a corner niche.
Look how they serve lunch!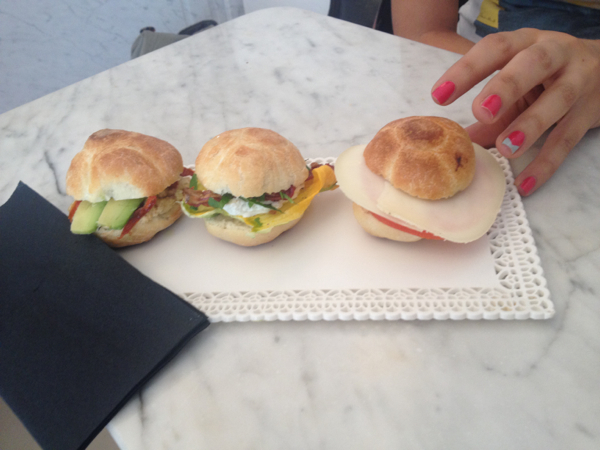 A couple times a week their little in-house cinema hosts art films and small concerts. Or, for a snack, try Zia Rosetta, with home-baked itty-bitty paninis, and the most adorable delivery bike that looks like a cradle.
For vintage buffs on a budget, try King size to find your perfect platform sandals or 70's tee, and Claudia, another Dane, has opened L'armadio di Oliver, a shop for kid's clothes-- strictly old school.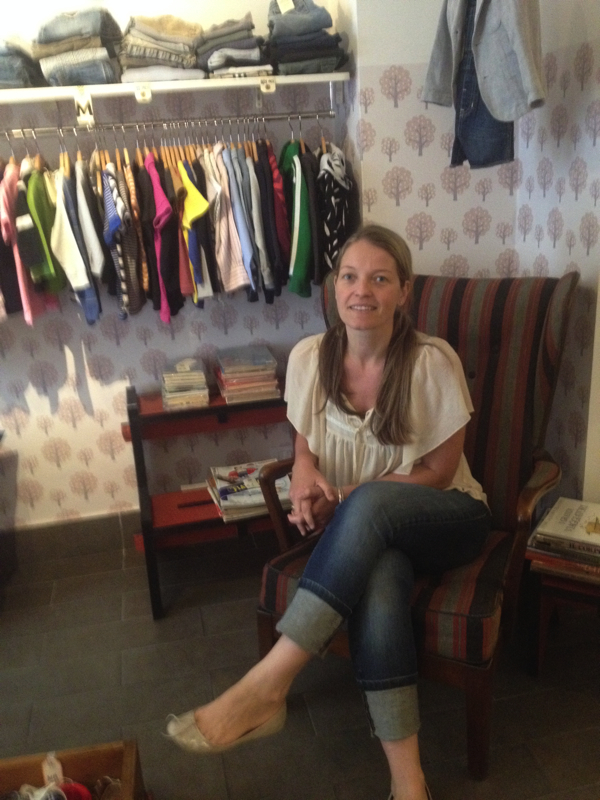 But let's get down to the real vintage... all the way back to ancient Rome, and we're hooked up with Rome 500 experience and our very own cherry red Fiat 500, hosted by Alvise http://www.rome500exp.com/. His passions for old cars and history merge perfectly in his new gig: he offers tours where you drive your own vintage Fiat 500 following behind his car, stopping along the way to hear the back stories of Rome told with enthusiasm. We drove past the Colosseum to an area that was built on a hill made up of thousands of shattered ceramic oil jugs that can still be seen in the walls of the buildings.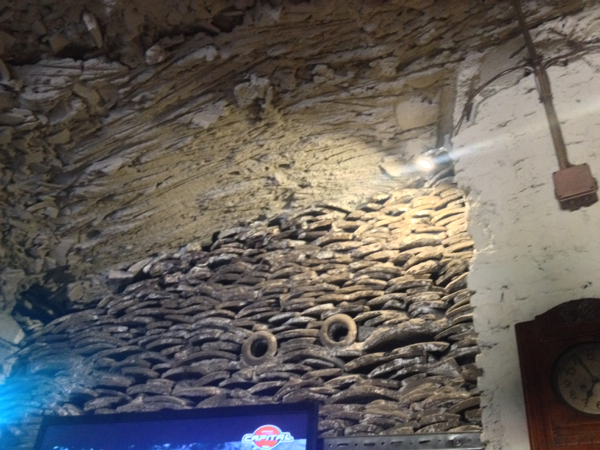 Then we went up to Gianicolo to see the firing of the cannon at the strike of noon, and had some awesome views from the top. The trip concluded with a stop at Bibenda, where Mirco and Chiara offer some handpicked wines, "vintage" of course, paired with cheeses, and a vegetable lasagna to die for.
The cool thing about tooling around in a 500 is all the attention you get, everyone wants a photo op with your car, even we couldn't resist this
Arrivederci, Roma!