On my annual mother-daughter trip every year we set off for Istanbul! Always one to combine business with pleasure, I sought out an unusual-looking hotel, and Dersaadet certainly fit the bill.
As soon as we walked in the door, we were told to make ourselves comfortable in the parlour. A steaming cup of apple tea and some Turkish delight were a wonderful beginning to our stay at Dersaadet. A first taste of the hospitality that has made this hotel popular.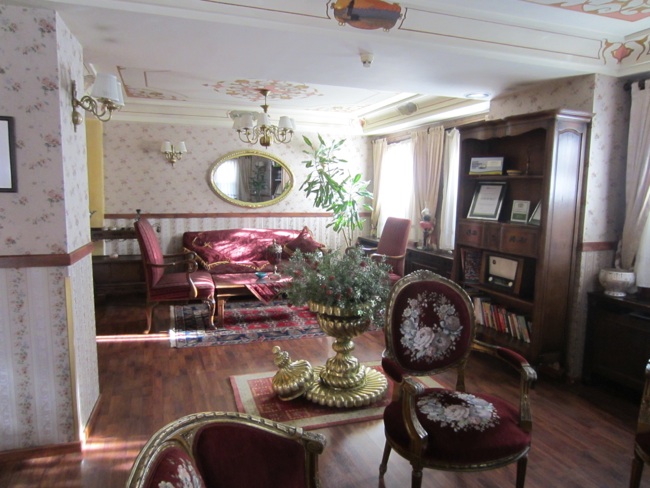 The name means "gate of happiness", and the name was apt: once a 17th century private Ottoman mansion, the building with its wooden facade was painstakingly remodelled as a 17 room hotel using local artisans. The young manager Deniz Duyar and his family run it with the friendly and familiar hospitality that Turkey is famous for.
Location, location, location.
The little hotel sits on a "real" residential street in the Sultanahmet district, just steps from the Blue Mosque, Topkapi and all the historical sights. It was a huge plus to be able to wander out the door on foot and be at our destination in five minutes.
Back to the future.
Our room had a 21st century Turkish bath—that is, a marble walled room with tiled decoration, with the traditional low hamam sink, saucer for washing and heated marble floor, but with the addition of a giant waterfall shower on the ceiling, guaranteeing you will be taking lots of nice long steamy showers. Bath amenities included a loofah glove and pomace stone. Very nice touches.
Another nod to the present was the free wi-fi: after you sign in once, you never have to fiddle with it again: as soon as you reach the hotel the wi-fi finds you and you are back online, a simple thing that many big hotels can't seem to get right.
Breakfast on the roof terrace offered an awesome view of the sea of Marmara and the staff were always available with great local fare and a ready smile.
The Sultan's Penthouse suite was a real stunner, with ruby red fabrics and offering sweeping vistas across the length of the oversized room and a bathroom that would pacify even the most demanding Pasha. Not surprisingly, this room is often booked by honeymooners.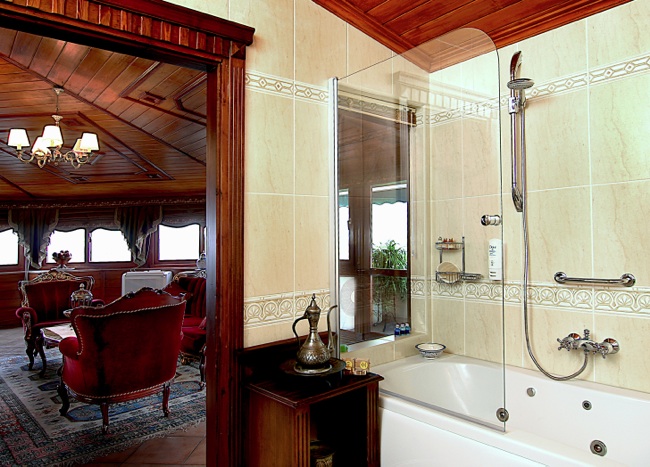 Other splash-out rooms are the corner suites; one has a romantic four-poster bed, yet the entire hotel is really modestly priced.
So... what's unique? Number one is the facade. The ark-like wooden walls outside were the first thing that attracted me. I would also give top points for the rooms with Turkish baths and the suites. But in a touristy city like Istanbul, the best unique feature was the warmth of the entire staff: Denis and his family really care about their guests and I would come back in a heartbeat.
Staying at Dersaadet was a delight.