Well, its upon upon us once more, January 24th - the official Beer Can Appreciation Day, and what better way to celebrate than to talk to Jeff Lebo (JL), creator of Brewhouse Mountain, located in Pennsylvania in the Connewago Mountains. Our ever intrepid GoUnusual ambassador, Sharla Ault (GU) and follower of all things amazing and unusual, took the opportunity to catch up for an interview.
GoUnusual: Hi Jeff, how did you get started on this hobby?
Jeff Lobo: I was born in 1962 and back in the 1970's, the hobby of collecting beer cans was very popular. I remember when I was just a little boy, seeing the colorful graphic images on the cans and it captured my imagination. I'm an artist, and maybe it all started from looking at those cans. In the beginning I helped my friends add to their collections, and when I started, mine grew to the point that I had so many cans, I couldn't find a place for them.
GU: So What did you do?
JL: My dad, (who coincidentally worked for a big canning company), and I built a really big house with lots of shelves for all my cans, where I would bring my friends to show my collection. A year and a half ago my wife and I decide to rent out bedrooms, and even the whole house to enthusiasts and it's been quite successful.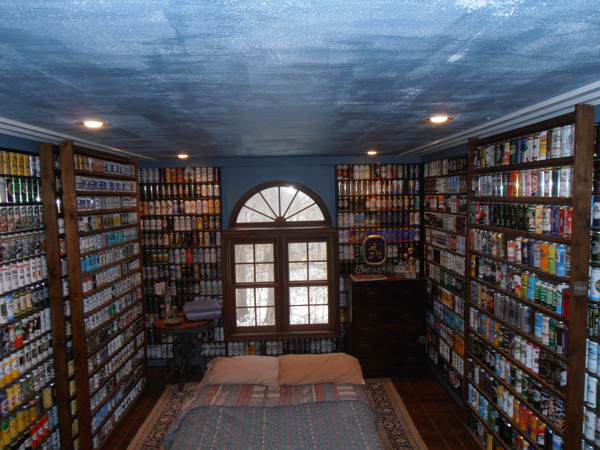 GU: How many rooms do you have:
JL: We have 5 themed rooms, Scandinavia, Germany, Africa, Pacific and America: each room contains cans only from that region. The whole house is decorated not just with cans but with neon signs aplacards and memorabilia relating to beer. Everyone tells us the pictures don't really do it justice, you have to come and see it!
GU: Do you have a mini bar with beer in the fridge?
JL: Actually we don't have a licence for alcohol so it's strictly BYOB.
GU: What kind of people come to your inn?
JL: We get lots of collectors, and many groups who take over the whole house as a novelty. Since we are between two New York and Washington, it's a great halfway point for groups of friends meeting from both cities.
GU: What's your most unusual request from a potential guest?
JL: Once I had a guy call me and said he wanted to rent the house to drink lots of beer and shoot guns. That's not exactly the kind of guest we are looking for.
GU. Are the cans on the walls empty or full?
JL: They are all empty, we wash them out well before we put them on the shelf!
GU: Have you tasted all of them?
JL : (laughs) No way- many of them were from way before I was born
GU: But you are a beer drinker I hope?
JL: Oh yes. My favourite brands are local craft beer producers, whom I like to support.
GU: So how many cans do you have altogether?
JL:I have over 83,000 different cans, that makes it the largest collection in the world.
GU: Have you ever lived in this house?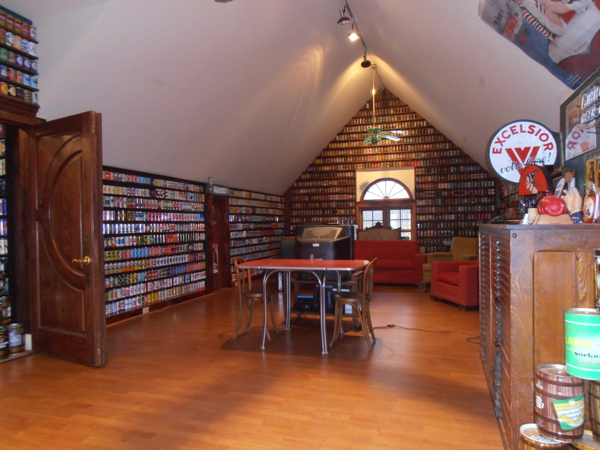 JL: No, but I live just next door, and I have quite a few cans at home.
GU: How do you keep track of them?
JL: Well, just like coin or stamp collecting, there are books, and I check off the ones I have in the book. I also photograph them to take to conventions. I've been to conventions all over the world.
GU: What's your rarest can?
JL: I have about two dozen of very rare cans dating back to the very beginning of beer canning, in the mid 1930's. I keep these in my house.
GU: Do you still buy collectors beer cans?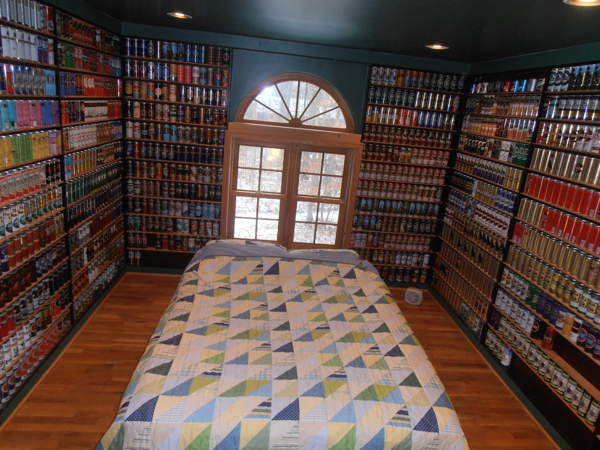 JL: Absolutely, I have a guideline on my website to help you determine the valuable beer cans. I will buy cans that I don't already have, and you can even "pay" for your stay with a unique can or two.
GU What does a really rare beer can go for?
JL: A really rare one in good condition can go for about $1,000
GU: Any new projects?
JL: I have the ongoing ABCD project, which stands for Antartica Beer Can Documentation , and its aims are To date and preserve as many beer brands as possible, to make this information available to students of Antarctic history and brewery historians and To aid in the cleanup and restoration of derelict Antarctic garbage dumps.
GU: And the future?
JL: I'm always looking for that elusive can that is not yet part of my collection- it's out there somewhere.
GU: Jeff, thanks for helping us celebrate the day, and we love people like you who ... GoUnusual!
Follow GoUnusual.com for all the newest developments...