Project Tiger
Situated in the central Indian state of Madhya Pradesh, Bandhavgarh National Park is a 448 square kilometre tiger reserve. Nestled among the picturesque Vindhya and Satpura mountain ranges, this is one of India's most beautiful national parks. The dramatic landscape features steep rocky hills with flat grasslands in the valley.
An ancient 2 000 year old fort, a 10th century statue of Lord Vishnu, and the dense Sal jungle combined with the grasslands make Bandhavgarh an extraordinary park.

Bandhavgarh supports one of the highest densities of tigers on the subcontinent. It's hilly open terrain includes many large grassland meadows that offer good wildlife sightings. The big cat population of the park has made Bandhavgarh world famous. Both, the Royal Bengal Tiger and the White Tiger of Rewa can be spotted in the park.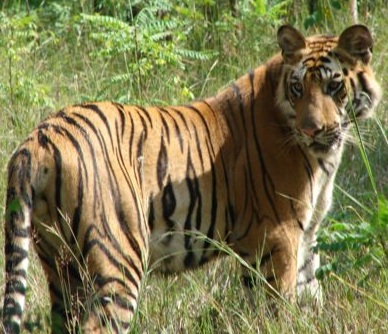 The best way to tour the Bandhavgarh National Park is on an Elephant Back. The Mahouts of the park are well informed and the tricky terrain of steep and rocky hillsides and marshy river beds can be traversed on elephant-back which increases the probability of sighting a tiger manifold. .
The national animal of India, the Royal Bengal Tiger, is an incredible sight. His dark stripes superimposed on orange fur, its white underbelly, huge paws and long tail makes an indelible visual impact. His regal presence justifies the title of King of the Jungle.
The other wildlife attractions in the park include Nilgai, Chausingha, Chital, Chinkara, Wild Boar, Fox and Jackal
Project Tiger was initiated to save the alarmingly dwindling population of tigers in India by establishing special reserves that offer a large enough natural habitat for the tiger and other wild life. Bandhavgarh National park came under the purview of Project Tiger in 1993. It has a core area that is left undisturbed and a buffer zone that offers opportunities for wildlife safaris.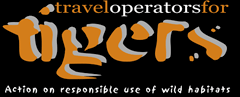 During the first stage of implementation of the Project Tiger the conservationists focused on prevention of forest ecology disturbance, poaching and habitat destruction. Entire villages were relocated so that the interests of the humans and animals would not clash. The core areas at the India national parks were developed as breeding zones and humans were kept away from this part of the forest.
For property options around the Tiger reserves - check out Treehouse Hideaway
http://www.unusualhotelsoftheworld.com/TreeHouseHideaway
PradeepM