In the 500 years since golf was first played, there have been rules changes, and shots taken in incredible places (including the moon) but here is a revolutionary take on golf. Cross Golf is a game in which, with a conventional but brightly coloured golf ball, you shoot for a goal rather than a hole. Cross Golf is a different matter entirely from the regular game. In it, the atmosphere is much more light-hearted, there is no "dress code" and the aim is to hit your ball into a net. You use the same set of clubsas in golf, minus the putters.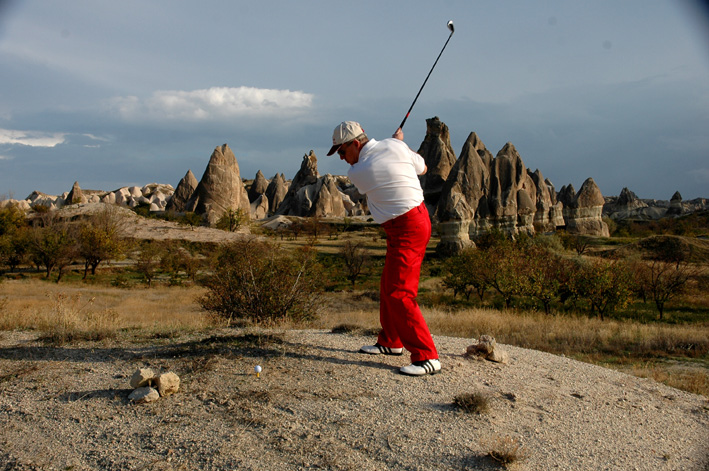 Whether you are a regular golfer or a novice at the game, you are guaranteed to have a lot of fun. It's simple and very sociable and you might even improve your regular golf game! It's a game anybody can play, at any age or standard.
Cross Golf dispenses with manicured lawns, sandy bunkers, a strict dress code and regulations and makes for a more challenging game. In this new golf game, the bushes and fields are the fairways and fairy chimneys, cliffs, trees and grape vines are the obstacles to navigate. Cross Golf takes young and old on an energetic walk through Turkey's most famous national park, so recognised by UNESCO.
One of the UHOTW member hotels – The Museum Hotel is a founder of the Turkish chapter of this sport – for more information click here
And for UHOTW cave and luxury cave&SPA hotels in the fairy chimney landscape of Cappadoccia where you can stay, click here.