Sunday 28th August 2016 sees the 31st World Bog Snorkelling Championships, held annually in Llanwrtyd Wells, an event that Lonely Planet described as one of the top 50 "must do" things from around the world in 2014. Hundreds of participants from around the world and plenty of spectators are expected once again.
The current World Champion is Haydn Pitchforth who achieved a time of 1 minute 26.75 seconds in the 2015 championships, whilst the World Record was set in 2014 by 33 year old Kirsty Johnson from Lightwater in Surrey, with an amazing time of 1 minute 22.56 seconds. The Junior World Champion in 2015 is Megan Davies in a time of 1 minute 54.84 seconds, and the Ladies (and International) Champion is Eva Jonasson from Sweden with a time of 1 minute 31.06 seconds.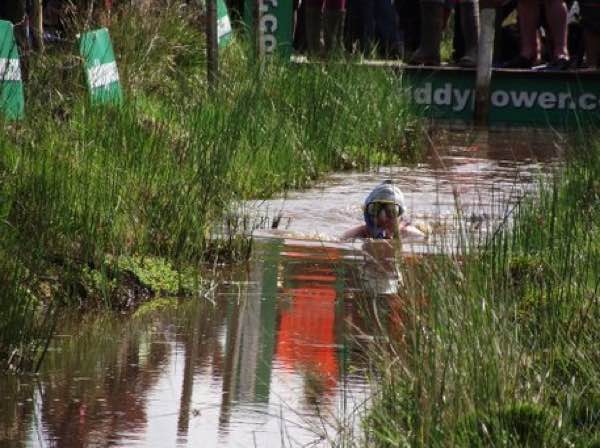 Photo Thanks Green-Events.co.uk
In 2015 the bog snorkellers included participants from France, Holland, Poland, Sweden, Eire, Czech Republic, Australia, Japan, USA, and Canada, making this a truly international world championships.
As usual there were plenty of fancy dress entries, with the first prize for fancy dress going to Anne Marie Beresford-Webb and Eva Walters who competed together as a pantomime unicorn!
The event takes place at Waen Rhydd bog on the outskirts of the town, getting underway at 10am. The site is signposted from the town for those who don't mind about a mile walk, and there is also a shuttle bus running from the town square to the bog and back, beginning as soon as we can manage after 9am. There are food and drink stalls, crafts, a bouncy castle, live music and a real ale and cider bar on the site, so it's a great day out even if you don't fancy taking the plunge.
Online entries close 7 days before the event, so don't leave it too late!!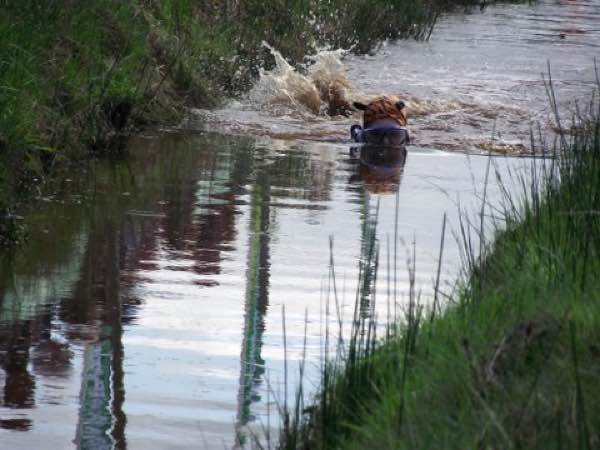 Photo Thanks Green-Events.co.uk
This epic race consists of two consecutive 55m lengths,in a freezing water filled trench. Simple enough one might say, but to make it more challenging, all the competitors must wear a snorkel (evidently in the name) and a pair of flippers. To those who then say "Pfft anybody could do that", you must only use unconventional swimming methods, so essentially flipper power alone. (ie your swimming technique must be appalling).
Perhaps bog snorkelling isn't your thing, and fair enough it's not for everyone, then why not try Mountain Bike bog snorkelling? Essentially the same thing but utilising a specially designed bike for the same purpose. A much more difficult event to complete, considering the nigh impossible task of cycling through 110m of 4ft deep boggy and muddy water. The greatest thing about these events is that all proceeds (Event entry of £15) and donations go to different charities every year.

The current world record is at 1 minute 22.56 seconds (for snorkelling) so why not go down to the local bog and start practising? You never know, it could become an olympic sport one day.
More information - click <here>