London Bonfire Night
5th/6th November-Various Locations
In remembrance of Guy Fawkes' attempt to blow up the houses of Parliament, every year there are superb firework displays all over Britain, but especially in London where large events are organised with several minutes of 'choreographed' fireworks. Normally these events cost to get the best seats, but a well situated hill/hotel can get you a great free show.

For details of the various displays across London, click here.
Why not mark this famous event with staying in a famous ex-courthouse hotel?
Flaming tar Barrels - Ottery St Mary (near Exeter)

Ottery St Mary, about 10 miles East of Exeter celebrates bonfire night with festival where villagers carry flaming tar barrels through their town, as part of a tradition dating back to the 1600s.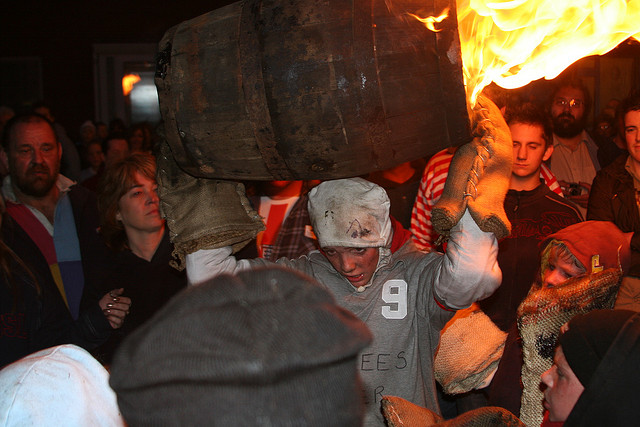 Photo FlickR Hans Zinsli
The festivities begin in the early evening with children's, youths' and women's events, culminating in the men's event when a total of seventeen barrels are lit outside each of the four pubs in the town. The barrels, increasing in size up to 30 kg, are carried through the town centre.
Only those born in the town, or who have lived there for most of their lives, may carry a barrel.
Lewes Bonfire Night Celebrations
5th November

Whatever London (or others) fireworks claim, the worlds biggest bonfire night event is helpd annually in Lewes, West Sussex. Celebrating the failure of the Gunpowder plot, and commemorating the burning at the stake of 17 martyrs in 155-1557 in Lewes, this event has a number of competing Lewes Bonfire Societys - typically 4-7 - with ticketed attractions. Traditionally un-politically correct, parades feature effegies of recent figures from world news and politics. Osama Bin Laden, Vladimir Putin, George W Bush, President Assad, Angela Merkel and Tony Blair have been featured in recent years, as well as the traditional Pope Paul V. You are unlikely to get tickets on the night, and we recommend getting to the area early - or using public transport. With tens of thousands of revellers, this is a night to wrap up warm, and be fed and watered before you arrive. Bring loose change for the collection boxes.

Day of the Dead
30th Oct-2nd Nov-Mexico
This yearly tradition is not to mourn the dead, but simply remember them through different religious celebrations in different parts of Mexico. Despite the name, it is actually a very lively festival as the belief is that souls simply pass on to a further stage in life to rest, and this festival is to honour their dead. Usual traditions are to bring sugar skulls, marigolds and the deceased's favourite food to their place of burial. A moving celebration, with excess tequila and partying after the celebrations are over.
Need a mexican hotel?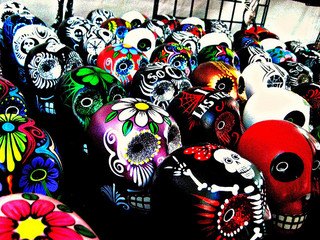 Cannabis Cup
18th-22nd November-Amsterdam (Where else?)
This strange 'World Cup' of Cannabis was created in 1987, in which the best strains of Marijuana are tested by 'specialist' judges from around the world to determine several competitions such as "best overall winner" and "best new strain". Anybody can apply to be a judge to test different products from around the world, but only those asked by the event organisers deligate the finals. This is also an opportunity for cannabis-based businesses to have an expo promoting their products, coupled with live comedy and music acts. For more information on how to become a judge or past competitions click here.

Perfect location to stay during this festival? Why not the Hemp hotel? Or just anywhere in Amsterdam?
World Championship Punkin Chunkin
4th - 6th November-Delaware USA
At first it can be difficult to understand what this actually entails, but in essence, this is a 'Pumpkin Throwing' competition, but instead of normal throwing competitions, these pumpkins are fired out of home-made air cannons and the current world record stands at 1,690 metres! Anybody can enter (provided you have an air cannon if you want to win) or watch, and the proceeds go towards local community improvement.
Visit here for more information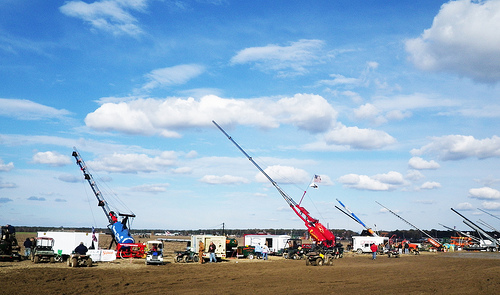 Christmas in Tivol, Copenhagen, Denmark
This is a tradition amongst Copenhageners. If you are in Copenhagen during the months of November and December, do not miss Tivoli's Christmas lights, market and entertainment when you're here.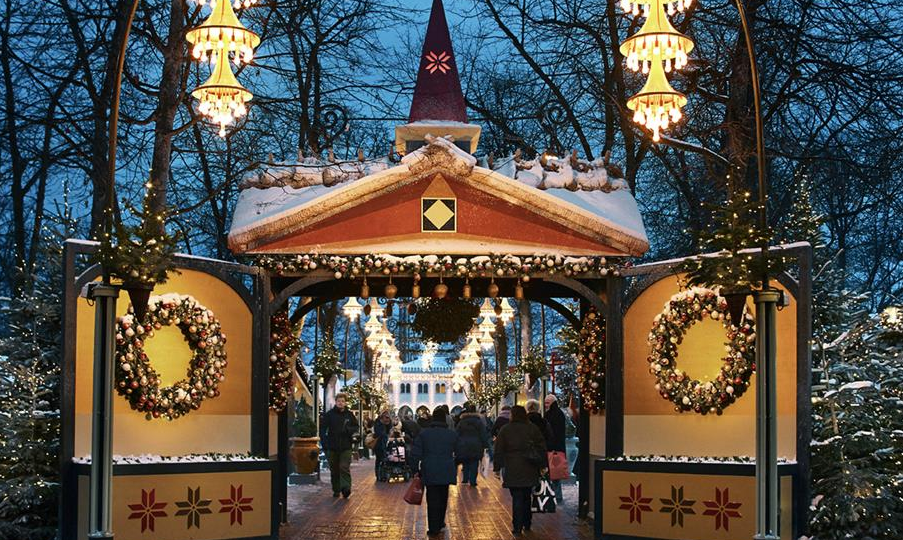 Father Christmas will be there to welcome you to the 27 fun rides, The Nutcracker Ballet at the Tivoli Concert Hall, an Alp village, stalls selling delicious snacks and warm drinks, and a Nordic Christmas for the entire family to enjoy.
Bath Christmas Market
24th November to the 11th December
Each year, the beautiful area between the stunning Bath Abbey and the internationally renowned visitor attraction, the Roman Baths, is transformed into a Christmas shopper's haven - the Bath Christmas Market.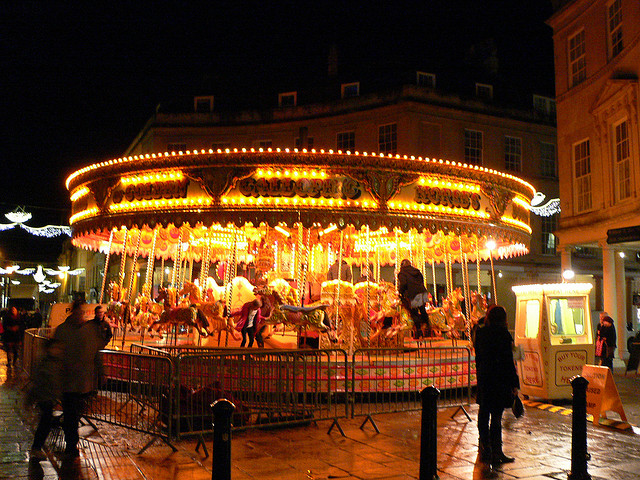 Photos with thanks from www.heatheronhertravels.com/
In the heart of Bath's main shopping district, 129 traditional wooden chalets adorn the streets; each one offering unique, handmade and unusual gifts, decorations and food items - everything you will need for the perfect Christmas celebration.

This year it runs from the 24th November to the 11th December. For more information <click here>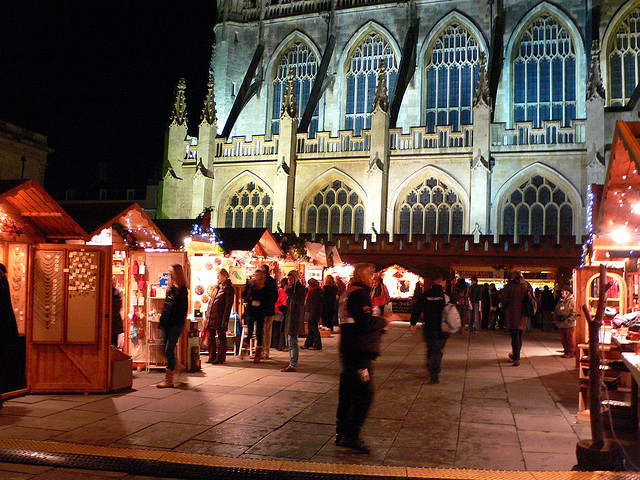 Photos with thanks from www.heatheronhertravels.com/
If you're planning to visit Bath, stay in one of the Cru houseboats, located right in the centre of town. Sleeping four to six people in two double bed cabins and two single sofa beds, they're a fantastic alternative to families and small groups visiting Historic Bath for a minimum of 2 nights. With log fires and full central heating, they're cosy and fun.
For more information <click here>
Thank you to https://www.flickr.com/photos/user47/ for thumbnail fireworks photo

Veteran Car Run

Sunday 6th November, Brighton - UK

Visit Brighton where on the Sunday of the first weekend in November you'll see a collection of vintage cars arriving from London as part of the London to Brighton Veteran Car Run - the worlds longest-running car event. Around 500 pre-1905 cars will stlutter and cough their way from Hyde Park to Brighton in celebration of the Locomotives on the Highways Act, an 1896 law that raised the speed limit from 4mph to 14mph, removing the need for a person running in front with a red flag as well.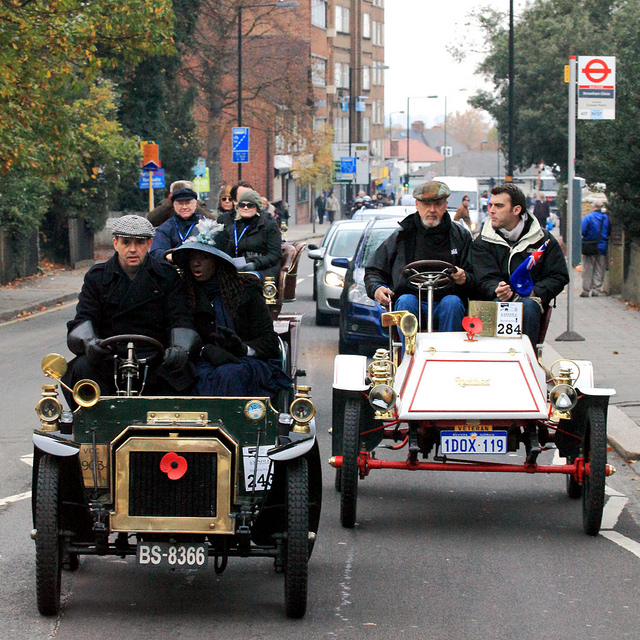 Photo Thanks to https://www.flickr.com/photos/762_photo/

Check out what's happening in December <here>
Please send details, a link and photo to us <here> if GoUnusual have missed a regularly running annual event.