Cabalgata los Reyes Magos
5th January-Spain
The Three Kings (or Wise Men) Parade takes place all over Spain on the twelfth day of Christmas. Various towns and cities celebrate the day in different ways: with some performing pageants or re-enactments. The most common festivity, though, is the distribution of sweets in the streets (usually by the Three Kings themselves). One of the more prominent of these celebrations is in Madrid, where up to around seven tons of sweets are handed out!
Why not stay in an Unusual Hotel while you're there for the parades (and sweets)? Check them out here.
Burns Night
25th January-Scotland (or worldwide)
Set up in celebration of Robbie Burns' birthday, the famous Scottish poet, and is a fundamental Scottish tradition. The meal classically consists of haggis, neeps and tatties (turnips and potatoes) and several poems (Address to a Haggis/Selkirk Grace, that are both traditional before eating or Toast to the Lassies after dinner) being read throughout the night. Particularly popular in Scotland, but also in some areas of New Zealand where Robbie Burns' nephew lived. It is one of those things that is becoming increasingly popular every year and if you haven't been to one already, find somewhere that has a great Burns Supper.

Kumbh Mela
27th January-25th February-Allahabad, India
This will be a Purna Kumbh Mela (every 12 years) and is a mass Hindu pilgimage where Hindus meet at the river Ganges and Godvari to purify themselves from their sins. This is one of the most sacred events and the majority of events are ritual bathings, mass feedings of holy people and the poor and devotional singing. The festivals in Allahabad are always the most sacred so this is truly unmissable as millions of Hindus will arrive to bathe in the holy rivers. For information on other 'Kumbh Mela's and dates of the main bathing visit here.
Away from the hustle and bustle of city life near Allahabad is a perfect location to stay, click here
Big Day Out
18th-28th January-Australia
Big Day Out is a music festival that's hosted in various cities across Australia, starting with Sydney on 18th January and ending in Perth on January 28th, stopping off in Gold Coast, Adelaide and Melbourne on the way. With Red Hot Chili Peppers and The Killers headlining the event, and many other acts performing, you can even create your own line-up of who you want to see on the festival's website.

Take a look at some Unusual and Unique Hotels Down Under here.
Hadaka Matsuri (Naked Festival)

January - Inazawa, Japan
As a rite of extreme purification, Japanese men strip to their underwear, jump in freezing water and roll in snow.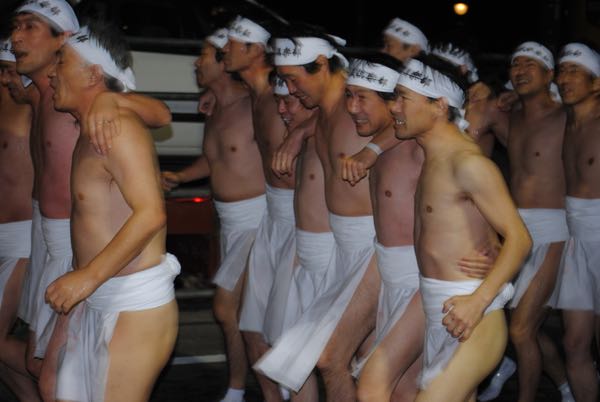 Photo: Calltheambulance / FlickR

International Snow Sculpture Championships
15th January-3rd February-Breckenridge, USA
This international competition in Breckenridge, Colorado has 15 teams from 10 different countries who work on huge 20-ton blocks of snow, 12 feet tall, using only hand tools - no chainsaws allowed. The only money created from this event is through $1 paid to vote on the best sculpture and this goes to charitable events in the area. The sculptures are top quality and it takes a full 5 days to create them. For more information, check out their website.
Look for Unusual and Unique Hotels in Colorado here.
Beer Can Appreciation day

24th January

Check out the Brewhouse Mountain Eco-Inn, home to Jeff Lobo and one of the (if not the!) largest collection of (sadly empty) beer cans in the world. Currently over 83,000 cans! More details <here>


Check out what's happening in February <here>

Please send details, a link and photo to us <here> if GoUnusual have missed a regularly running annual event.