Battle of the Oranges - The largest food fight in Italy.
Shrove Weekend, 28th February Ivrea, Northern Italy
Like their Tomato throwing cousin event Tomatina, the Battle of Oranges is a civic-sponsored event. However unlike the more chaotic Tomatina, this Italian Orange based food fight is an organised battle between nine competitive teams re-enacting the city's liberation from Medieval tyranny. It is violent and messy. Stay safely behind the safety nets...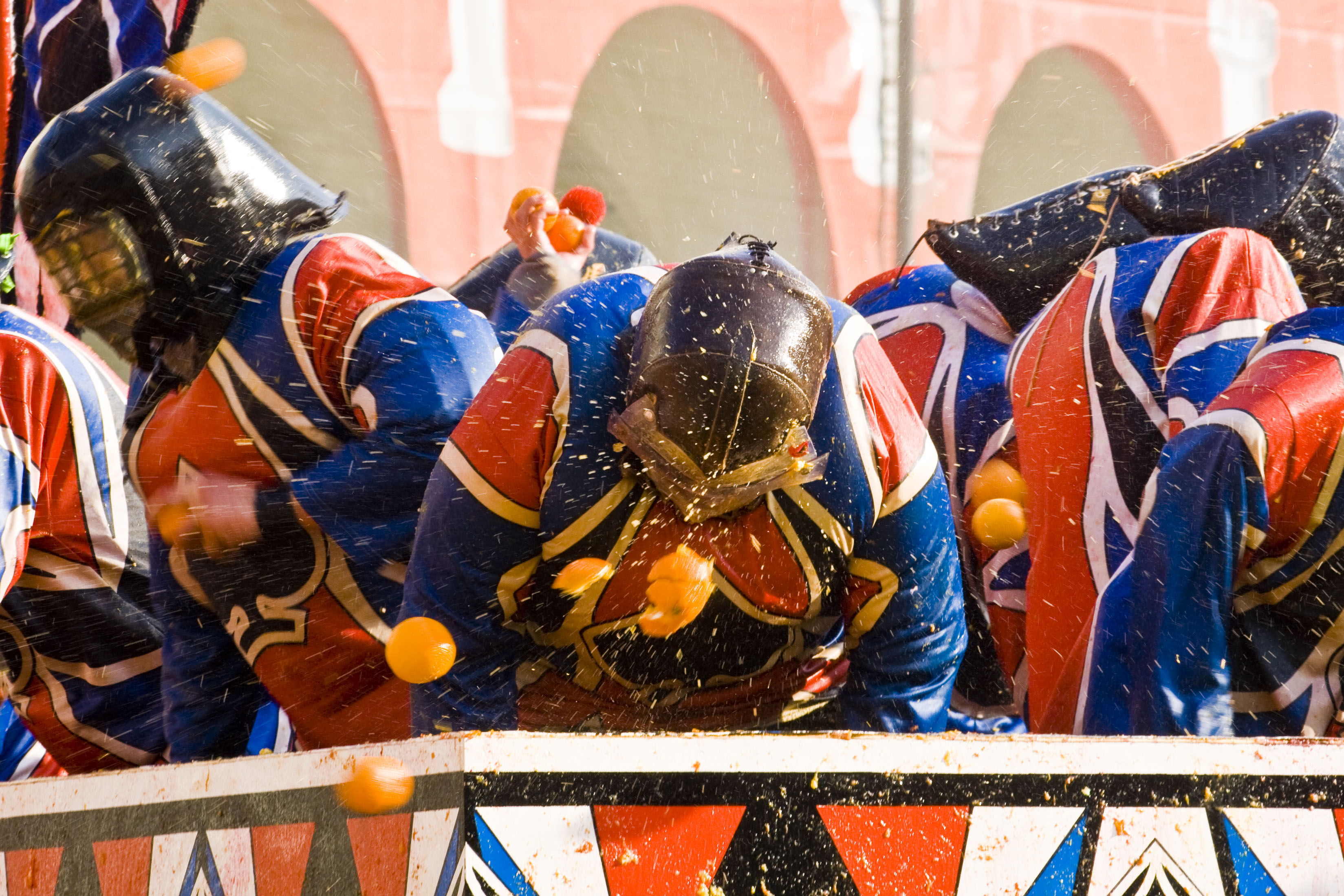 Image Maurizio Montanaro FlickR
Ivrea is around 1 1/2 hours to the West of Milan.
Cherry Blossom in Japan
Celebrate the Kawazu Cherry Blossom Festival held annually in Kawazu in the Shizuoka Prefecture of Japan. These early blooming cherry trees, offer one of the earliest opportunities in the year to see large numbers of these pink-cherry blossoms. The town is around 2 hours 40 minutes form Tokyo by train.
Cologne Carnival
Cologne, Germany

Come and visit the largest museum of carnival in the German-speaking area! This week-long festival is a crazy wild time and everyone lets their hair down with numerous fancy-dress gatherings and masked balls.
Women's Carnival Day
Early in the morning, the streets are alive with women in fancy dress on their way to the office, their place of work or to shops, and from 10.00 a.m. they all head towards the Alter Markt. At 11.11 a.m. the Street Carnival is officially opened at the Alter Markt by the three principal Carnival figures: the Prince, the Peasant and the Virgin. At 13.30, Historical play "Jan un Griet" (Jan von Werth Carnival society) at the Severinstor, followed by a procession to Alter Markt to honour the Jan von Werth memorial with cheerful music and dance performances.
Rose Monday
The climax of the Carnival with the large official parade from 10:30 a.m., organized by the Cologne Carnival Committee of 1823: It is a colourful spectacle with sweets ("Kamelle"), little bouquets of flowers ("Strüßjer"), pecks ("Bützje") and over one million of spectators in fancy dress. This year's motto: "social jeck – kunterbunt vernetzt" All day the city echoes to the sounds of the Carnival battle cry: "Kölle Alaaf", which means "Long live Cologne!"
Carnival Tuesday
In the afternoon, parades in Cologne's suburbs with Carnival groups and societies in fancy dress. After the midday parades in Cologne suburbs the party goes on until at midnight, amid great weeping and wailing, the "Nubbel" (a life-size straw figure) is ceremonially burnt.
Ash Wednesday
The end. Carnival "survivors" soothe their hangover with a traditional fish dinner in one of the many restaurants and pubs.

Women's Carnival Day (Weiberfastnacht): 23th February, 2017
Rose Monday (Rosenmontag): 27th February, 2017
Ash Wednesday (Aschermittwoch): 1st March, 2017
RIO Carnivale - Brazil

28th February-Rio de Janeiro
After the first festivals in 1723, it became an annual occurrence with the parades attracting 2 million people every day to the streets. There are two main events surrounding Carnivale. First is the Samba Parade (broadcast live to several countries) in which dozens of different professional samba schools (community 'associations' to practise samba) perform their dances throughout the night in fierce competition.
The other main event is the Street Carnival, in which anyone can openly participate. Truly a magnificent event and one which everybody should see at least once in their lives.
For all the information on Carnivale click here
Mardi Gras - USA

Tuesday 28th Feb, New Orleans
'Mardi Gras' is so-named as it's the final day of feasting before Lent on Ash Wednesday, but before Mardi Gras there are a few weeks of festivities beforehand. Contrary to popular belief, Mardi Gras festivals are not usually revolved around topless women and getting drunk but have a very strong family appeal (normally) in that it's full of musical festivals, parades and free goodies. The tradition of Mardi Gras is strong throughout the whole city and is a great few weeks of enjoyment watching the 'krewes' (floats).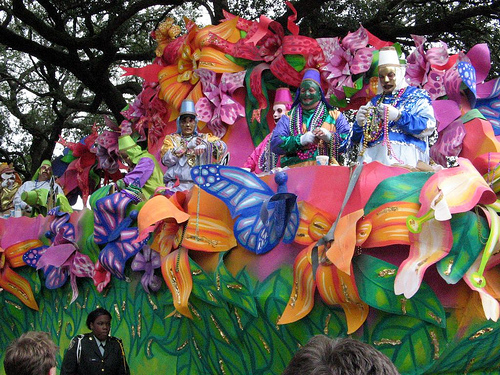 For all the information on Mardi Gras click here
Carnaval de Binche

26th, 27th and 28th February 2017 - Binche, Belgium
The Carnival of Binche is recognised by UNESCO on their Intangible Cultural Heritage List, and is celebrated from Shrove Sunday to Shrove Tuesday every year in the town of Binche, in the Hainaut Province of Wallonia, southern Belgium. The festivities culminate with a procession of over 1000 Gilles on the Tuesday, dressed in outlandish traditional costumes including massive hats with ostrich feathers.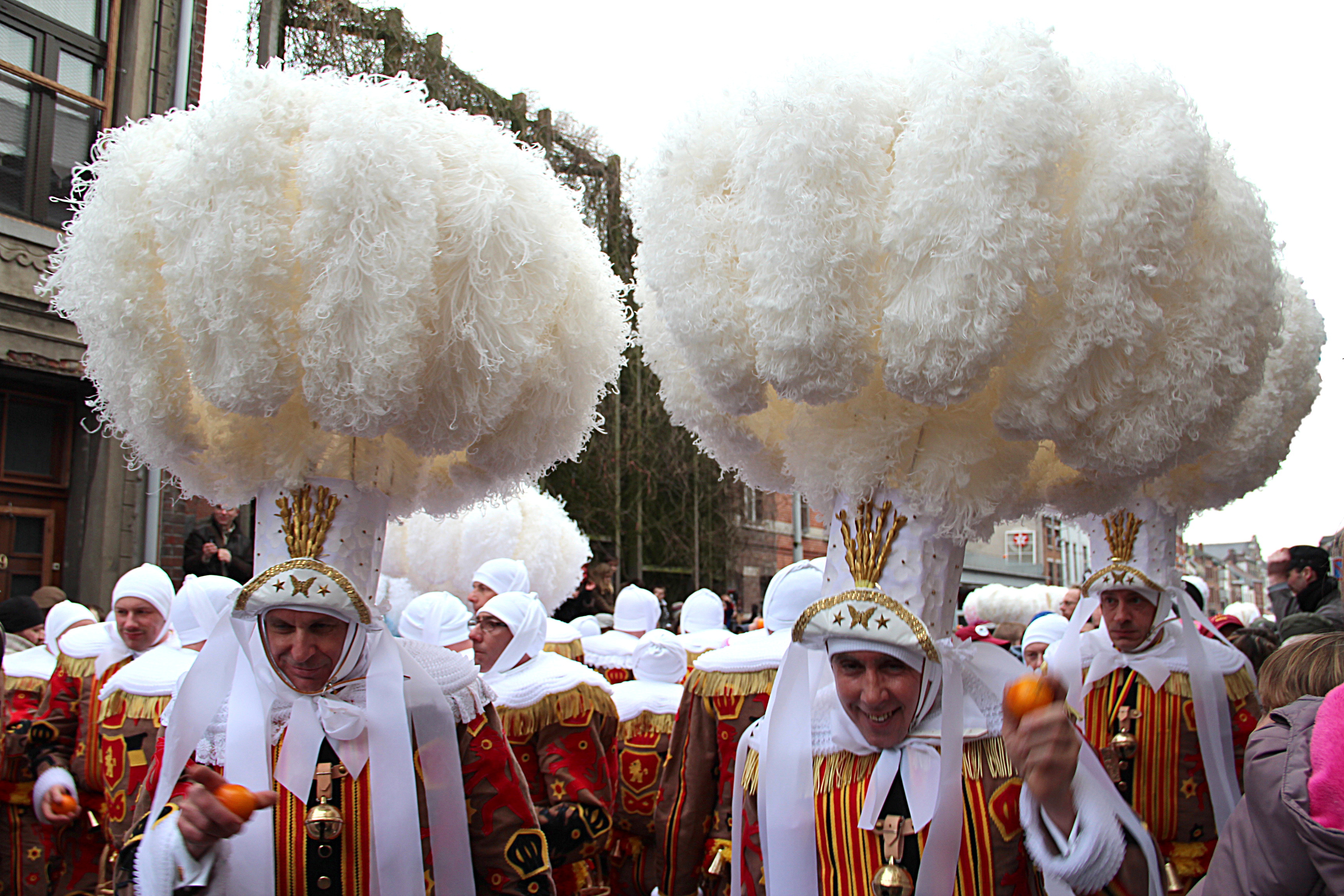 Photos:By Jean-Pol GRANDMONT - Own work, CC BY-SA 3.0, https://commons.wikimedia.org/w/index.php?curid=24599737

Visit the Carnival's website for more details <here>
Sauti Za Busara - Zanzibar
The Sauti Za Bursara has been running for a decade now, celebrating the diversity and brilliance of African music. With three continuous days (and nights) of music, it's not an event to miss, especially with over 200 musicians performing many varieties of music. It's an ideal opportunity for anyone, especially because there are marketplaces, after-parties, fashion/dance shows and even traditional African orchestras there for all three days, so if you don't like the music, there is plenty more to be getting on with.
Visit here for further information.
Need to stay in an unusual hotel during this time? Hatari Lodge? Shu'mata?
Valentines Day - 14th February
Everyone knows Valentines Day and its importance within modern society.There is no better thing you can do than take your loved one out for a night out that you will always remember and where you stay is part of the importance. Some may enjoy staying at home, but to those people who want to be outgoing and experience something different this Valentines Day, that something in itself can be visiting an Unusual or Unique Hotel in the World. Nothing quite says "I Love You" like a romantic trip away together.
Have a look at all these romantic hotels here.
Lemon festival

11th Feb - 1st March - Menton, France
Capital of lemons, the town has a huge parade on Sunday mornings, confetti, carnival etc. as well as night time and kids carnivals throughout the whole event.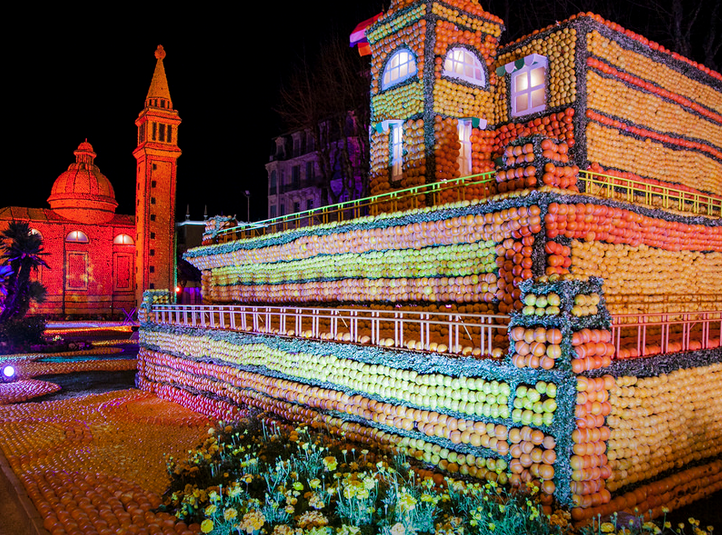 Photo: https://www.flickr.com/photos/tourisme-menton/sets/72157664593256872
Legend Boucles de Spa

18th/19th February - Spa, Belgium
This classic car rally is an excellent spectacle to observe, especially for car-lovers. The rally involves several different styles of races, and strives to improve upon itself year by year.
Visit their website for more information <here>
World Ice Art Championships

Late February - March, Fairbanks, Alaska, USA
Fantastic ice sculptures are created during this spectacular annual event in Alaska. Marvel at the skill and ingenuity of these creations, with two separate categories of single block and multi-block sculptures, as well as an amateur open exhibition and a youth (18 and under) competition. These masterpieces of frozen water can sometimes stand over 25 feet tall!
For more information, click here
If you're visiting to admire the ice sculptures, why not stay in an old rail car in Fairbanks or a room created by an ice carving champion?
Rye Bay Scallop Week

18th-26th February - Rye, East Sussex, UK

Whether you're new to these tasty shellfish or a scallop aficionado, Rye is the place to visit for these fishy treats, which are at their finest at this time of year. You can learn to prepare and cook scallops, consume dishes created especially for the occasion, listen to live music and attend quiz nights in one of the oldest scallop fishing towns in the UK.
The final day of the festival begins with the "What a Load of Scallops" race, which consists of two- to four-person teams pushing wheelbarrows full of scallops from the fisheries to the pub as quickly as possible.
To find out more, visit their website <here>
To search for a hotel nearby, click here.
Check our what's happening in March <here>
Please send details, a link and photo to us <here> if GoUnusual have missed a regularly running annual event.