Welsh Open Stoneskimming Championships 29th May 2016

Sponsored by the Heart of Wales Brewery, Llanwrtyd Wells.
Almost everyone has skimmed a stone at some stage of their life. "Ducks & Drakes" for the British; "Ricochets" for the French & "Letting the Frogs out" for the Ukrainians are just a few of the names for the game played in almost every Country in the World. But it is now more than just a game: This simple pastime has developed into two distinct branches of a competitive Sport.
The America discipline is termed "Stone Skipping" and has the object of achieving the maximum number of "bounces", whereas the British & European version "Stoneskimming" is concerned with the distance achieved. Both have their "World Championships". In the States it has been held for many years on Mackinac Island, Michigan, and here in Europe, now in its 15th year, on the Island of Easdale, Scotland.
Up until recently the Sport had been limited to just a few venues that had locally available "ammunition", the problem being the illegality of removing natural stones in bulk from water-courses and beaches for competitive use elsewhere. This problem has now been overcome. After much research and development by leading exponents of the sport, a range of "artificial" Skimming Stones have been produced. They bring a consistency of performance difficult to achieve with natural stones, however carefully selected, and bring a long overdue "level playing field". They are set to become the new "Clay Pigeons" of the skimming game.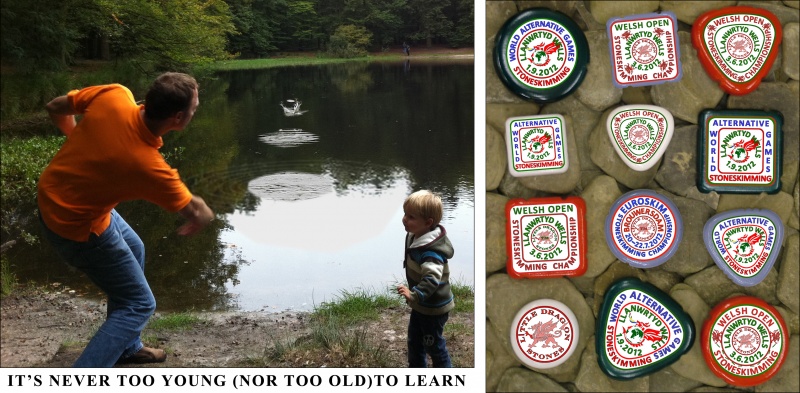 Photo <Green Events>
Formed from re-constituted stone in a variety of shapes and sizes to suit all ages and capabilities, they will be available for use at the Welsh Open (which will also welcome contestants who might prefer to bring and use their own selected "natural" stones).
For more information and to register, check out the Green Events website <here>
Image from http://www.flickr.com/photos/ilike/