The Poseidon Underwater Suite at Atlantis the Palm in Dubai is no stranger to celebrity guests. Recently Khloe Kardashian was wowed by a visit - although she likely stayed as a comp''d guest, instead of about 60,000 AED a night or about $16,335 USD a night. While many might swoon over the opulance, you might perhaps appreciate that you're as much viewed by the fish as looking at the shark tank yourself.
Your money buys you three levels, a dining room for six, complimentary WiFi, in-suite check-in, complimentary return airport transfers to and from Dubai International Airport, complimentary 24x7 butler service, an interconnecting room, and (for when you are bored of the view?) in demand movie membership. There is also a one-bedroom suite alongside your ensuite bathroom and the picture window Ambassador Lagoon view. The suite also comes with other bling-tastic perks such as two Dolphin Encounters at Dolphin Bay, massages, 2 x 30-minute personal training sessions, use of the steam, sauna and jet pool facilities at ShuiQi Spa, a private cabana for pool, beach and Aquaventure and unlimited access to The Lost Chambers Aquarium and Aquaventure Waterpark.
For those that demand all the bling that money can buy - more frills (and less taste?), check out more information about Atlantis The Palm <here>
Other Underwater rooms?
Fans of a more natural setting might wish to look at other Underwater suites, including The Manta Resort in Tanzania, situated right on top of one of the worlds best dive sites.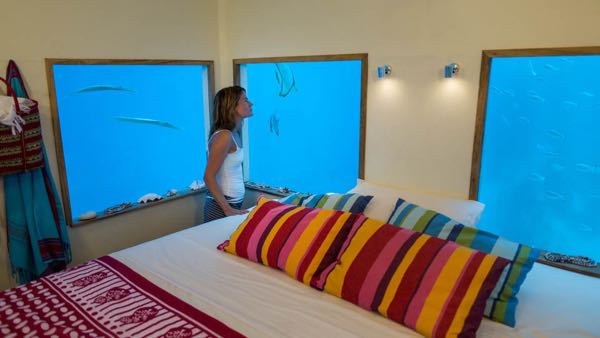 From $1500 a night, you're getting a lot more WOW and much less gimmick. Basically it's much less like Disney... and much more like National Geographic.
For those on tight budgets, try out the original Utter (Otter) in in Sweden from €400 a night.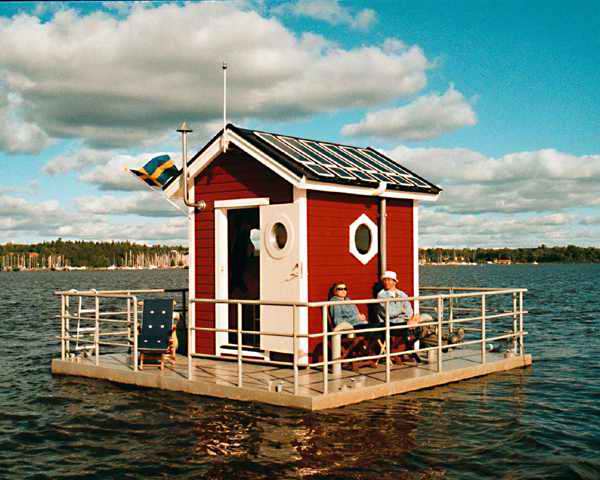 - or those with dive qualifications might like to try the Jules Undersea Lodge in Florida.
Whatever you decide... you never need to worry about threats to "sleep with the fishes" again !
A Life Less Ordinary
GoUnusual