Las Fallas Festival, Valencia

Every 15-19 March in Valencia you'll hear the sound of firecrackers during the week long "Las Fallas" festival.

This is Mardi Gras on Steroids !
Pregnant women are banned from attending. So are those of a nervous disposition. Animals have long since learnt to keep away. Ambulances are on stand-by. Forget the Burning Man festival. This is the original, and loudest!



The festival is in honour of Saint Joseph (19th March). Located throughout the city, towering ninots - colourful and comedic papier-mâché statues that ridicule politicians, film stars, bullfighters and anyone of local, national or international notoriety or famous figures. The sculptures are on display throughout the festival for visitors - and then famously stuffed with fireworks and burned to the ground on the final night ceremony known as La Crema.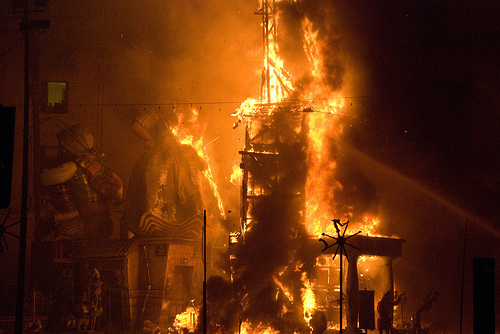 Each year, the sculptures are judged and the winner is saved from cremation and placed in a museum.

Learn more about the festival <here>

Sleep in a Moroccan tent, a shepherds hut or a themed B&B <HERE?>


Images - Refugio Marnes,
Zorenne (http://www.flickr.com/photos/zorenne/),
Imalel's (http://www.flickr.com/photos/39757581@N07/)
Keith Ellwood (https://www.flickr.com/photos/76377775@N05/)
Alberto Ceballos (https://www.flickr.com/photos/alcebal2002/)