Jump into a Gocar and ride the 7 hills of Lisbon! GoCars are 2-person, GPS-guided, tour cars with a 60 mile range. These tiny trikes allow you to explore the narrow streets of Lisbon in a fun and friendly way - with a few astonished looks from fellow tourists. Onboard story-telling commentary can bring the sights you see to life and is provided in English, Spanish, German, French & Portuguese. The audio is a real human voice, not computer generated, and includes jokes, anecdotes about the city, information about the Portuguese language and also the Portuguese culture including the different types of popular music.

The little yellow convertibles have a top-speed of just over 30mph (50km/h) and whiz round to complete the tours in as little as 45 minutes. While they advertise that you'll never get lost, it is easier if you follow the pre-programmed route, then you don't need to understand their native GPS when you deviate.

Good fun for couples and amazing entertainment for groups, perhaps getting lost and finding your way back with new stories is half the fun.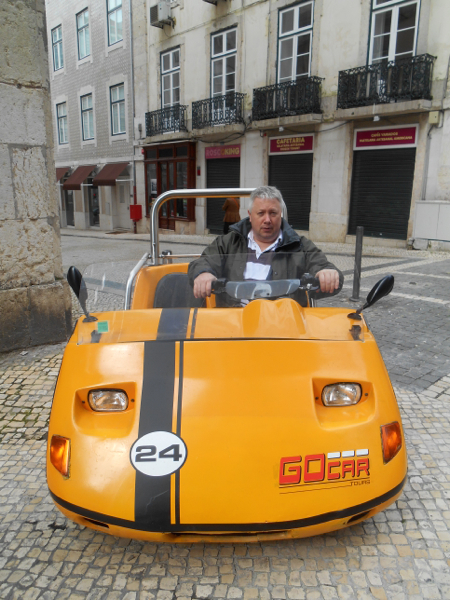 Love this blog? Read more...

http://www.unusualhotelsoftheworld.com/TravelIdeas/GUNetwork/GoUnusual-Guide-to-Lisbon

http://www.unusualhotelsoftheworld.com/TravelIdeas/Guru4Travel/Sardines-Sex-and-Cocktails-in-Lisbon

http://www.unusualhotelsoftheworld.com/TravelIdeas/Guru4Travel/HippoTrip-in-Portugal

http://www.unusualhotelsoftheworld.com/TravelIdeas/Guru4Travel/Eating-in-strange-places-in-Lisbon



GoCar Tours
Rua dos Douradores 16, Lisboa,
Portugal