Once considered the origin of stories about mermaids, manatees are descended from elephants, sharing the same intelligence and memory of their land based ancestors. Like humans, they're mammals and have a number of close relatives including the Australian dugong and the North Pacific sea cow, which was sadly hunted to extinction in 1768. Thankfully Florida outlawed hunting over 100 years ago and the protected status of these slow moving and docile creatures has allowed their population to recover.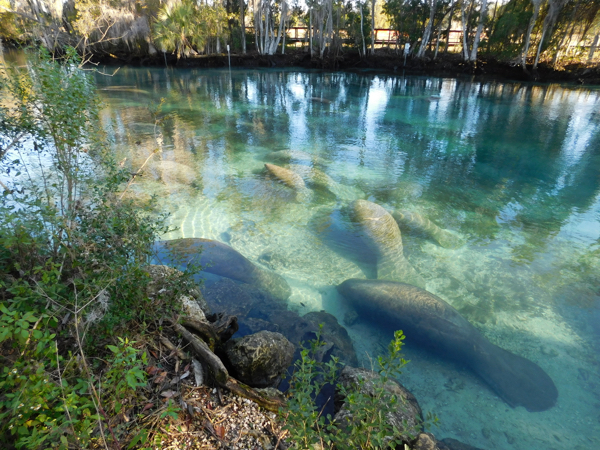 In the last 2015 survey there were 6,063 manatees in all of Florida and fully 17% - the most anywhere - were found in Citrus County, Florida, the Manatee capital of the world. At this location, the Crystal, Homosassa and Chassahowitzka rivers literally spring up from the earth all at once – just miles from the Gulf of Mexico, creating a unique habitat where constantly warm freshwater springs meet the sea. In 1983 the Crystal River area was recognised as a National Wildlife Habitat to protect the most important havens for manatees to generate a thriving ecology and business partnership.
Swimming with Manatees
Manatees eat sea grasses, preferring to devour the more nutritious salt-water varieties than freshwater vegetation. Adult manatees live as long as 60 years growing up to 3m (10 feet) long and weighing between 800lbs and 2000lbs (360-900kg).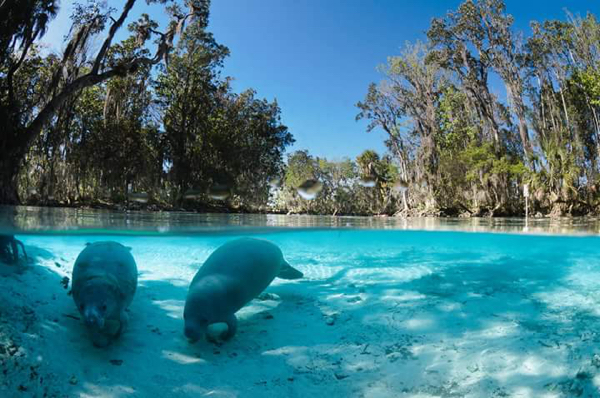 During cooler winter months manatees prefer the warmer waters of Florida's hot springs, which provide a constant 72 degrees (22.2 0C) environment. Although it is possible to see manatees all year-round, between Mid-November and Late-March you can don a wetsuit to snorkel in organised tours among these inquisitive creatures.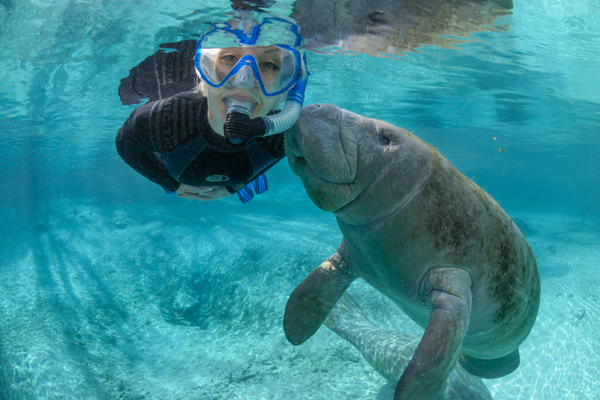 Underwater photographer Carol Grant suggests that "manatees are very curious" and "when you float there quietly you become a manatee magnet". Bob Bonde of the US Geological Survey explains "manatees are very tactile" and surprisingly "part of their curiosity with humans is that if they trust something they'll rub their back and scratch on it" he explains. "They're almost akin to a cat rubbing up against your leg". "It's just a remarkable experience for us to be able to share their environment on their terms" he adds.
Best boat trip slots are the first of the day, when manatees are friendlier and more inquisitive. Although they start at 0630 or 0700, they are booked up to a month in advance – but early midweek slots can sometimes be available at the last minute.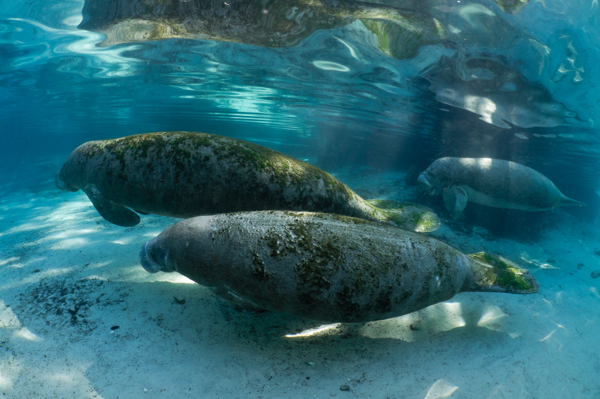 Tours adhere to a voluntary code of practice highlighting passive interaction and best practice guidelines that recognise that swimming with these gentle giants is a privilege - not a right. As environment friendly practices have increased, the manatees have grown ever more trusting of human interaction. Like their forefathers the elephant, manatees remember kindness.
For those that don't want to get in the water but still want to see manatees you can visit a boardwalk, paddle with manatees in a kayak / paddle board or take a boat tour.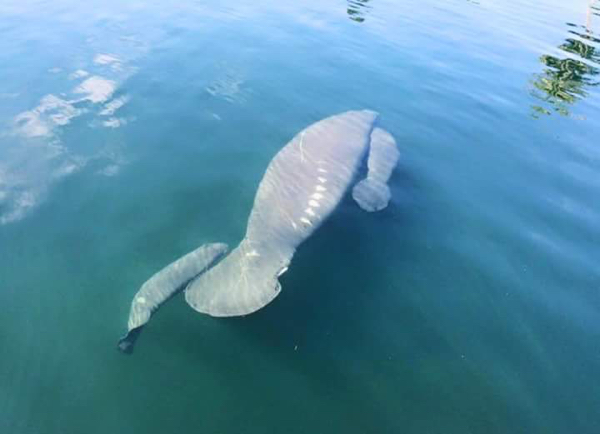 Building a manatee experience in plans for a Florida Theme park vacation, has the added benefit that the cost of food and lodging for overnight stays in Citrus Country are generally 30-40% cheaper than Orlando and Tampa. Tour packages inclusive of breakfast and overnight lodging are from US$112 based on a couple sharing. Contact the Citrus Country Tourist team for latest offers, package details and suggestions of tours and overnight options.
While you might have considered Florida because of Mickey Mouse, you'll stay because of the manatee.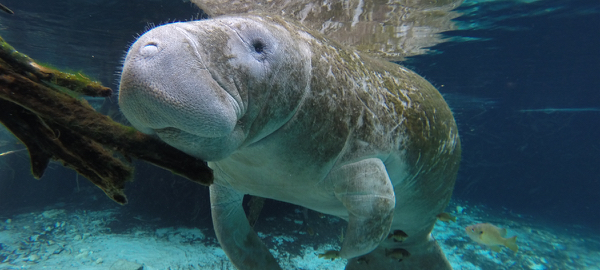 Thanks to Adam Thomas, Director of the Citrus County Visitors and Convention Bureau
Citrus Co. Visitor and Conventions Bureau
915 N. Suncoast Blvd
Crystal River, FL 34429
Office: 352.794.5506
The Visit Citrus Mission
To Strengthen Citrus County's tourism economy in order to retain and create jobs; expand tourism business income and related taxes; and to enhance the quality of life for all citizens by raising destination awareness and increased visitor spending. The Citrus County Visitors Bureau serves as the leading advocate for the tourism industry in building community relations and partnerships.