Brussels
Needing no introduction but often forgotten as one of the worlds great cities, Brussels has much to offer the UHOTW traveller. It's not all chips, beer and chocolate! Recognised as one of the great gourmet destinations, 2012 sees the celebration of Brusselicious - a year long celebration of regional specialities, chocolate, fine wine and beer. Something to tempt all tastes and budgets, from humble waffles and street cafe culture, to Michelin starred delicacies.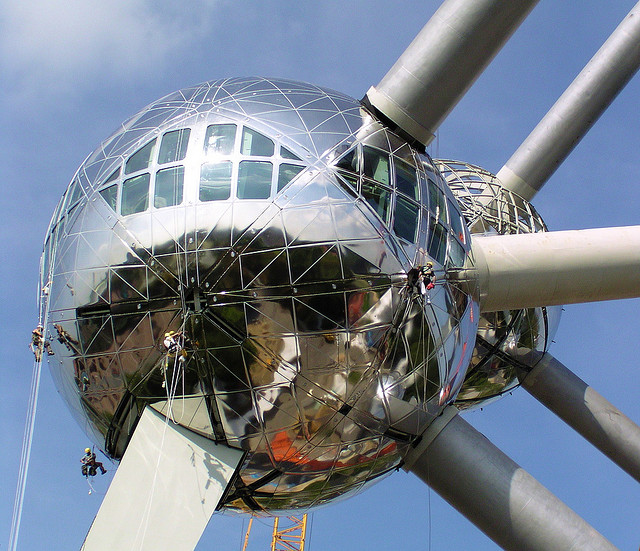 Photo e3000
As well as the sights of the Grand Place, Atomium (where children can stay) and the Art Deco architecture, Brussels is also home to 4 fascinating museums, deserving special mention:
Musical Instruments Museum - Housed in Art Nouveau styled former Old England store. With thousands of instruments, sounds and recordings, this museum is world renowned for lovers of anything musical - to hear, see and touch instruments from around the world. <More>
Plasticarium - Run with passion bordering on obsession by Belgian-born artist Philippe Decelle, who has filled 4 floors of an art-déco townhouse with thousands of plastic items. Kitsch and colourful, this collection of sofas, TVs, lamps, clothes and tables dates from 1960 to the first oil crisis in 1973. Its a private museum but he opens for groups of 10-20 people. Contact the Belgian Tourist Office for entry details <here>
Tram Museum- this weekend museum houses a large collection of public transport vehicles tracing the history of Brussels trams and buses - and many are still in working order.

Every Sunday from the first Sunday in April until the first Sunday in October you can discover Brussels and its history during a 40km journey in an historic tram dating from 1935. The Tram Museum guide will show you many hidden treasures Brussels and plenty of stories. Book direct with the museum <here>.
As a special treat to celebrate Brusselicious 2012, a Gourmet + Tram experience is running through 2012. As its name suggests, 'Tram Experience' aims to offer a gastronomic and touristic experience that is unmatched anywhere in the world. Guests will be able to enjoy several classic dishes of Belgian gastronomy, all modified for the occasion by top Belgian chefs. At the same time, they will be travelling along some of the Region's most attractive roads, seated inside a vehicle with a white, sleek and modern decor.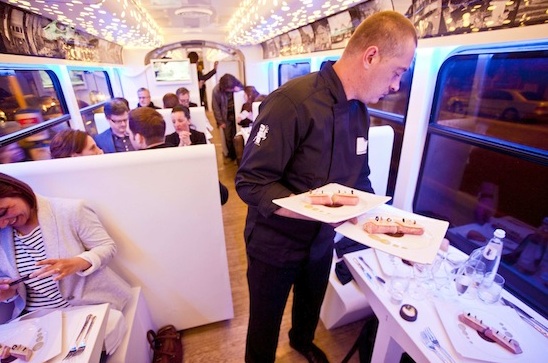 Photo VisitBrussels
This unique initiative of VISITBRUSSELS is part of Brusselicious, the 2012 Year of Gastronomy, and quickly caught the eye of STIB/MIVB. The Brussels public transport company without hesitation made a tram available for the occasion as well as staff and its infrastructure. Electrolux, building on the success it enjoyed earlier this year with The Cube (a temporary restaurant located above the Cinquantenaire arcades in Brussels), has also joined the project. The company is contributing to the outfitting of the tram and its equipment, as well as development of the culinary project.
Find out more and book tickets <here>
Heading Photo: BelgianTouristBoard