Camping in the cold this Christmas! Why not? Base Camp in Bonn offers a variety of caravans, Airstreams and night trains to sleep in an indoor campsite.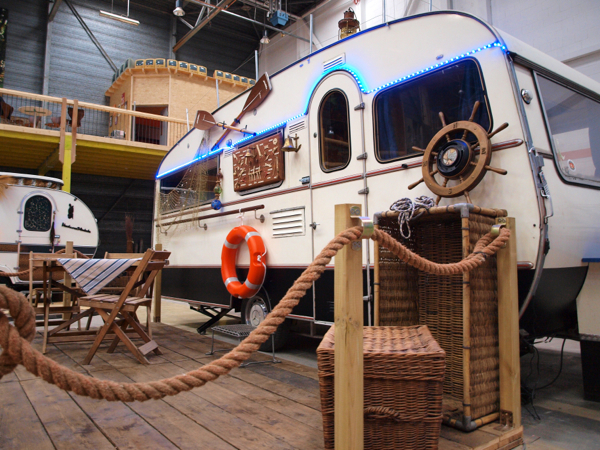 Bonn and it's region is not known for the biggest and most famous Christmas markets in Germany, but for some small and cute ones, where you can try the typical Glühwein (warm red wine) and eat some Lebkuchen, Bratwürstchen, Schinkenbrot and Flammlachs.
Only a couple of subway stations from the Base Camp, the Bonner Weinachtsmark in the city center, is located between the Münsterplatz - right around from Beethoven's statue - and the Friedensplatz.
Around 180 stands bring together the international folk who work in the many organizations and companies in the city for their after work Glühwein. Also reachable by the subway, but on the other Rhine side, the Mittelalter Weinachtstmarkt in Siegburg, is a representation of a middle ages Christmas market, with typical food of the time and no electric lights.
On this same river side, but a few kilometres down to the south and up of one of the Siebengebirge hills, the castle Drachenburg hosts on the weekends until 1st December, a market in the garden and in some of the rooms, with amazing views over the Rhine valley. It's simple to reach it, either with some of the boat trips departing from Bonn or with the subway to Königswinter. Then, either you walk up to the hill or you take the rack railway.
South of Bonn and on the same river side as the city center - reachable by a half hour journey on the regional train - the market in Ahrweiler is known for the locals for having the best traditional Christmas fair. The old town, crossed by the Ahr river, is a Christmas fairy tale which opens during the Advent weekends.
Base Camp is open for individual accommodation during the winter weekends, but available for groups mid-week. Special programs are available during the Christmas period, like "Jingle Grills" - outdoor barbecues for groups between 10 and 15 persons, the Sankt brunches for groups of more than 15 persons with Christmas specialities and celebrations.
Groups of 30 or more can have the whole indoor and outdoor location for a special Christmas get together.