Popular festivals, countryside and more beaches in Portugal

Without even really planning to see so many festivals during the stay in Nespereira, we arrived on the weekend when the Festival dos Mastros (Festival of Masts) in Casa Nova da Cruz, São Teotónio took place. All streets in town were decorated with flowers, where everybody on the surroundings came to celebrate and sing around the masts.
After a day spent discovering beaches and stork's nests on the beautiful cliffs under the lighthouse of Cabo Sarão, when driving to Zambujeira do Mar for dinner, suddenly we found the restaurant A Barca - very popular among locals. Like in every restaurant in Portugal, without asking, bread, butter, a huge cheese, butter and some fish patés will be brought to your table. It's your decision if you have it or not. If you don't touch it, it will not be charged on your bill.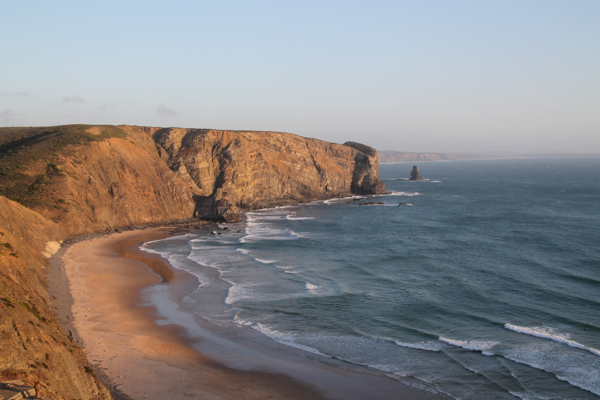 After a great dinner, and without even planning to have so many popular festivals during this weekend, in the near beach town of Zambujeira do Mar the "Encontro de Marchas" was taking place, where different towns of the region present a choreography, very colourful clothes and a well rehearsed song.
Back in Nespereira, only a 15 minutes drive from the town's beach, we enjoyed the peace of the watermill house we were staying. In the afternoon, we left to discover the beautiful town of Odemira, with its narrow streets going up and down between hundreds of white houses. That was an unplanned weekend in Portugal, full of new discoveries and absolutely fantastic.
I hope you can enjoy the unspoilt surroundings and hospitality of the area as well.
EriCK