Toothpaste from around the world
Stuff found from various copying machines
Misspelled food labels
A FOOLS'S GARBAGE IS A SMART MAN'S FORTUNE
Located in what was once a freight elevator in the back alley of a former Broadway paper warehouse between Franklin & White Streets NYC, sits the Museum, boasting artifacts, objects and curiosities from assorted collections around the world.
Fully equipped with ornate molding, cascading velvet lined shelves and recessed lighting, the space intends to show respect for the everyday, and displays the often overlooked beauty of real life. There is always beauty and magic in the plebeian.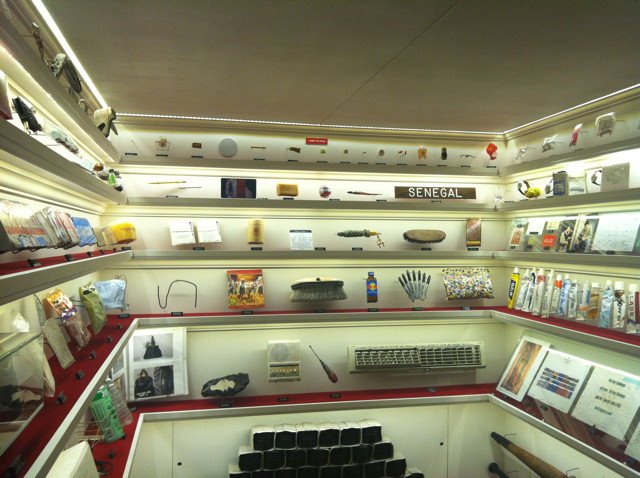 The context of an object can give it its value. Each item on display is accompanied by the story of its origin and how it ended up in the Museum.
It houses objects have been collected over the past 10 years from cities around the world. The are artifacts. They are items lost and found in the cracks and corners of cultures around the world.
The permanent collection of objects includes the shoe that was thrown at George W. Bush in 2008 while he was in Baghdad, Iraq at the Minister's Palace, artist Van Neistat's air conditioner vent, the intercom from Joe Junior's Restaurant which was open from 1975 to 2008, through which over 3,000 cheese burgers were ordered on an average day, and other miscellaneous international objects. The museum's current exhibition features other paraphernalia, such as a fancy Russian shot glass from a five star Moscow hotel which becomes a brothel at night and international toothpastes from a man's twenty year long collection, to name a few.
Museum is open to public submission, however, only the most uniquely sincere and awe-inspiring objects or collections will withstand the vetting process (based solely upon unanimous consent of the permanent curatorial staff). Good luck!
Museum rotates it's collection every few months, is open to the public, and is free of charge.
Cortlandt Alley
Btwn Franklin St & White St
New York City, NY 10013
info@Mmuseumm.com

Main Photo http://www.facebook.com/LittleFreeArtGallery
Intro photo Mmuseumm.com