Life is Great. Cheese Makes it Better. – Avery Ames
Those black and white and brown cows are doing more than just grazing in the fields. The ones in Marin County California are producing milk for some award-winning locally-made, handcrafted cheeses.
Marin County is where artisan cheesemaking in California started. First in the mid-1800s and then again in the 1990s. You might choose to start your quest for cheese with a stay at Straus Home Ranch, an historic farmhouse overlooking Tomales Bay. Their 160 acres of farmland are where organic dairying started in the Western U.S. and their ranch is at the heart of artisan cheesemaking country. Use the farmhouse as your starting point to taste your way through some of the most spectacular cheeses in the country - and if you plan ahead, you can take a tour or visit a farm.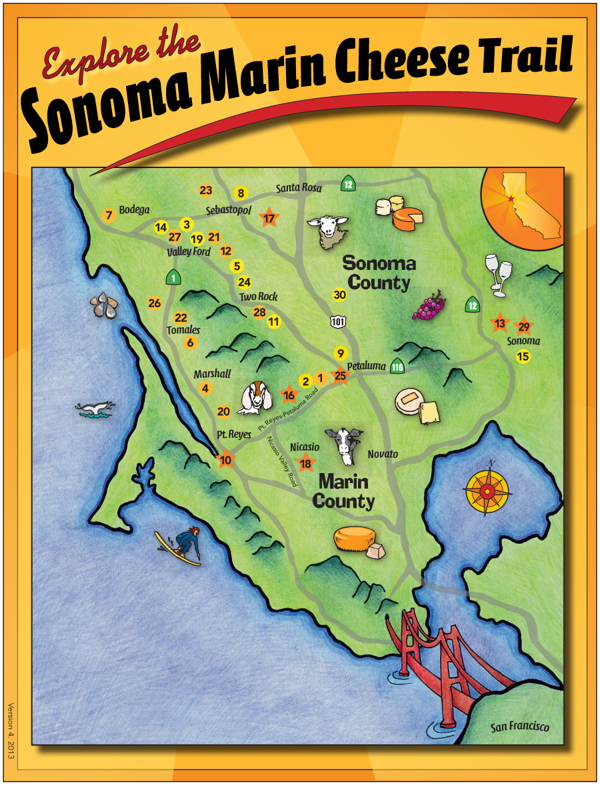 From the ranch you can easily drive to several open locations, all of which offer free tastes, viewing and picnicking.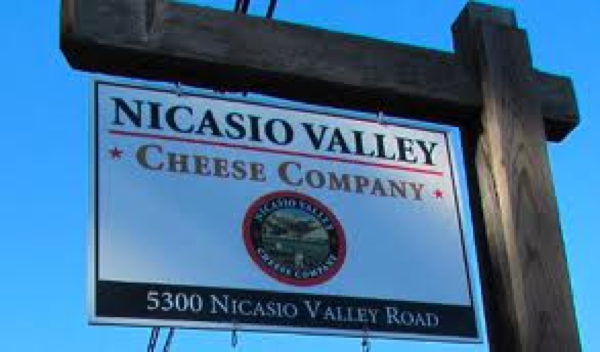 Start your drive heading South along the Tomales Bay on Highway 1, (take note of where to get oysters or rent a kayak for the next day), towards the historic town of Point Reyes. Though only two blocks long, Point Reyes contains Cowgirl Creamery, where you can view cheesemaking through the window, get tastes at the cheese counter, or if you plan a month ahead, get a full tasting and curdmaking demonstration. Cowgirl is a great place to pick up all varieties of cheese, not just their own, as well as a full assortment of picnic items. Then head East (inland) on the Point Reyes-Petaluma Road, making a quick detour onto Nicasio Valley Road to the quaint village of Nicasio. There you'll find Nicasio Valley Cheese Company. The Lafranchi family produces fantastic farmstead cheeses in the artisanal tradition of their Swiss-Italian cousins in Switzerland. Then retrace your steps to the Point Reyes-Petaluma Road towards Petaluma to stop by Marin French Cheese Company, the oldest continually operating cheese company in the country. Taste their Bries and Camemberts and put out your picnic blanket beside the pond to enjoy all you've picked up along the way.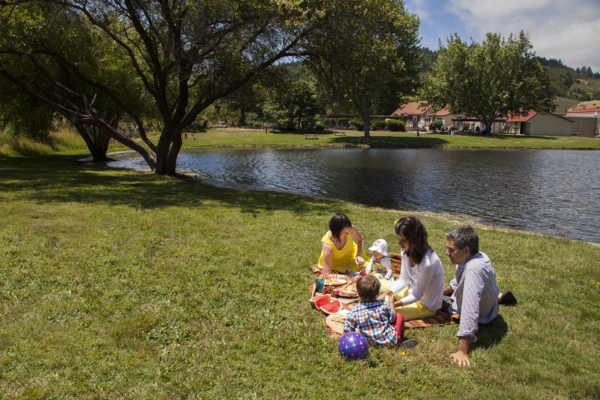 Check the website CheeseTrail.org for all things cheese-related, focusing on tours, cheesemaking classes and special events.
Thanks to Vivien for the info, and Andrea and Michael for the links.
CheeseTrail.org – for a map and calendar of cheese events.
StrausHomeRanch.com – Stay at an historic farmhouse – sleeps up to 8.