Stay for Free on a Private Island
Andrea found out details of an amazing offer for any Entepreneurs who need a little space to 'get creative'.
What about being offered a Free Private Island to give you all the space you might want to develop your ideas!!
Ideas Island is the brain child of Fredrik Härén and Teo Härén. They are the founders of The Interesting Organization (interesting.org) a creativity company based in Singapore and Sweden.
Fredrik is the author of The Idea Book - a best selling creativity book that has been translated into 14 languages and sold more than 200 000 copies. It has been included in "The 100 Best Business Books of All Time". Teo Härén is the author of "Working Outside The Box" - a book about maximizing your creativity by working in inspiring places (In Swedish only at the moment).
Ideas Island is where Fredrik & Teo go when they need time to develop their ideas. When they are not using it they open it up to other creative people.
You get exclusive access to a private island in one of the most beautiful parts of the world and you do not have to pay to rent it. All you pay is 50 USD per day - for the whole island (!) - to cover the cost of the cleaning staff and care taker. Renting a private island usually costs from 5000 USD per day or even more ...

Food is sold at cost (which in Palawan means very, very cheap. For example: 1 cooked crab for 1 USD) For the boat you just pay for the gas that you use.

There is no catch!
The people behind Ideas Island just want to support the realization of great ideas. They keep the right to decide who gets to stay at Ideas Island and select the lucky few based on what ideas they plan to work on while on the Island and how much they pledge to support our efforts of supporting the local community in Coron.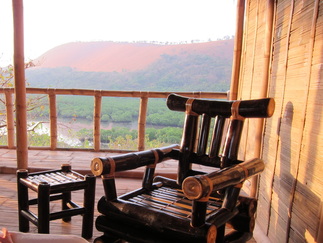 Thanks Andrea.... when are you staying?
Andrea Rademan (writebites@aol.com) is a Los Angeles based freelance writer, editor and broadcaster. She is a regular contributor to UHOTW. <Connect with her here>