Las Fallas
March 15th-19th, Valencia - Spain

A traditional celebration in which St. Joseph is commemorated in Valencia. Also known as 'The Falles', this term refers to the celebration and the giant monuments created during this period. Each neighbourhood in the city assigns a 'casal faller' (group of people) to fundraise all year long in order to create a 'ninot' (puppet or doll) which then combines with all the others to make a procession of ninots, called a 'falla'. All of these are traditionally themed as satirical jabs at one thing or another and are packed with firecrackers, in order to be burnt at the end of the festival. This crazy festival is coupled with daily events that are sure to be fanciful to anyone. Each day of the 'Falles' begins with 'La Desperta' (wake up call), in which brass bands march through every street at 8 am, followed by a procession of firecracker throwers (a.k.a the best alarm clock in the world). But the climax of the whole Falles ends with La Crema (the burning) and is why the constructions are called 'falles' (torches).
For all the information on this exciting festival click here. For Unusual hotels nearby, click here.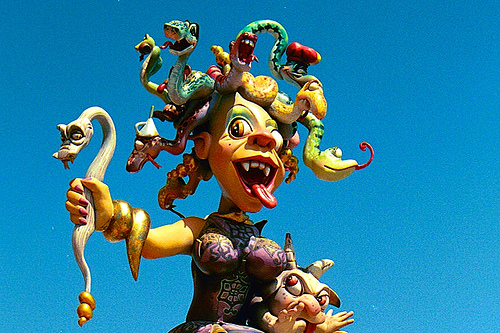 Semana Santa (Holy week)
24th-31st March, Seville - Spain
Whether you're religious or not, this is one Easter celebration you will not want to miss. One of the main attractions is the use of 'pasos' (lifelike wooden sculptures of scenes from the passion or Virgin Mary) and are considered to be masterpieces by some, during the week long processions from churches all over Seville to the Cathedral of Seville, all organised by religious brotherhoods within the city.
For further details visit here.
Following the theme of art masterpieces, why not stay in an hotel that is an artistic masterpiece? Or seek out other Unusual hotels near Seville.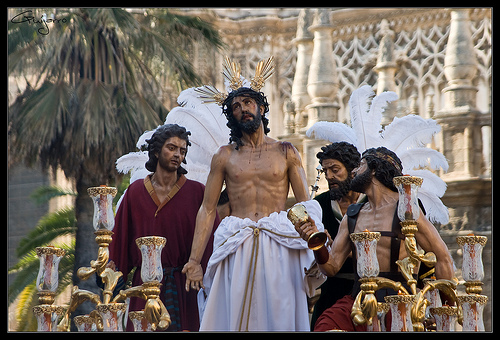 International Comedy Festival
9th-26th March, Glasgow - UK

This is exactly what it says on the tin. An hilarious two weeks of comedy gold graces the theatres, pubs and clubs of Scotland's largest city. With headliners this year such as Jimmy Carr, Harry Hill and Al Murray, this 10th anniversary is set to be the best yet.
Click here to find out more about the festival. Great hotels to stay in near Glasgow? Click here.
Frozen Dead Guys Festival
10th-12th March, Nederland - Colorado, USA
A weekend filled to the brim with events for all ages, ranging from the 'Grandpa's Blue Ball' (on the Friday night for strictly 21+ only) to a family pancake breakfast on the Saturday. This quirky festival includes events like coffin racing and polar plunging (for anyone to participate) to really feel the 'Frozen Dead Guy' spirit. The 'cryonics' parade is filled with wacky costumes and floats to liven up the weekend. With so many cheap (or even free) events running during this weekend, its a must for any and all frozen dead guy fanatics.
For all the info on tickets and events click here. Looking for an Unusual hotel to stay in while in Colorado? Click here.
St. Patrick's Day
15th-18th March, Ireland
This famous day is granted a whole weekend of family fun in Dublin. Despite the notorious connotations associated with St. Patrick's day (a booze-fest), this festival is in fact celebrating the rich culture and famous history that St. Patrick brings to Ireland and undoubtedly there will be alcohol based events, but it's not the driving force of this festival. From music to film to sport, this festival has it all.
Check here for all information.
And click here for accommodation during the festivities.
Carnaval du Laetare

25th-27th March, Stavelot - Belgium
With parades, tons of confetti, fireworks, and Blancs Moussis - hundreds of men in white outfits, with long-nosed masks - this Lent carnival is quite spectacular to witness.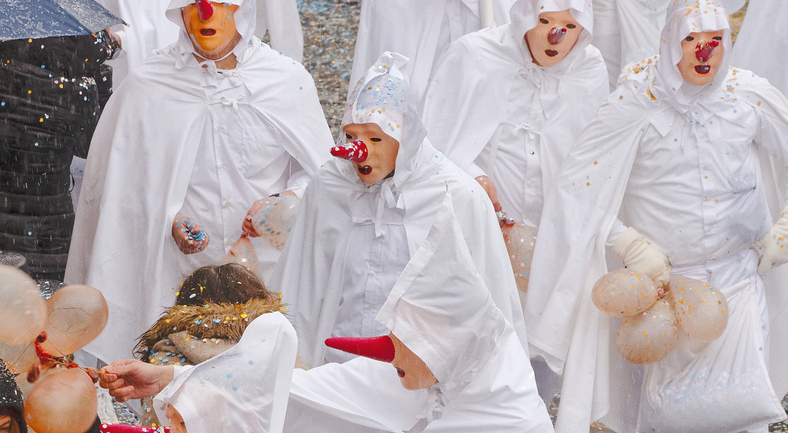 Click here for more information about the carnival. Why not check out Unusual hotels in the area for your visit?
Carnival of the Bears
26th March, Andenne - Belgium
Dozens of people dressed as bears join the parades of floats in the town of Andenne during this celebration of Charles Martel's killing of a bear. The festivities conclude with stuffed bears being thrown from the Town Hall's balcony into the crowd by the King and Queen of the Carnival.
Check out local Unusual hotels for this carnival, or seek out more information.
Grand Marche aux Fleurs
29th March, Tournai - Belgium
On Good Friday, over a hundred horticulturists participate in this traditional flower market, which dates back all the way to 1825.
Other places to visit in March
The Château de Vaux le Vicomte, less than an hour's drive from the French capital of Paris, is an excellent place for children to visit at Easter. The opulent gardens of the castle host Easter Egg hunts, along with face painting, chocolate making, origami and other activities. You can look at the castle's website here.
Prague, in Czech Republic, holds some marvellous markets during the Easter period. This year, they will be open from 16th March to 7th April. Bright, hand-painted eggs; handcrafted trinkets in crystal, glass, metal, wood and cloth; traditional food and drink: these are just a few among the different wares to be found. For more information, click here, or for local Unusual Hotels, look here.