I wrote about Mark Lester and his amazing Great Circular Indian Railway Challenge last year (http://gcirc.wordpress.com) as it was simply a dream journey, for an AMAZING bargain price.
Contacting Mark, he shared his latest adventure with me - a circular tour of Europe.
I'm shamelessly copying from his note to me to explain what he is planning to do in 2013 - as much because I'm so delayed in letting the good folks of UHOTW know - as much because Mark tells it better than me.
I'll let him take up the story:
The India trip was such a success that I thought of applying the same idea to Europe. On the face of it, Europe doesn't have the travel wow factor of India. There won't be guys calling chai-chai-chai-chai, or the chaos of, well, any principal Indian station.

Once we looked into this we discovered that our native continent can provide railway adventures like no other. Only Europe, birthplace of the train, has such a spectacular array of train rides: the beautiful and spectacular Bernina Pass; sleeper trains in Iberia of the highest quality; sea spanning tunnels and bridges in Scandinavia; the world's fastest trains in Italy and Spain; and a train ride deep inside the Norwegian Arctic.

What other part of the world can serve up a two-week, 10,000 mile train journey, featuring places of the stature of London, Brussels, Amsterdam, Copenhagen, Oslo, Narvik (150 miles inside the arctic circle), Stockholm, Hamburg, Berlin, Prague, Vienna, Bratislava, Budapest, Bucharest, Sofia, Belgrade, Sarajevo, Split, Zagreb, Ljubljana, Venice, Rome, St Moritz (via the roof of the Alps), Geneva, Barcelona, Madrid, Lisbon and Paris ?. At a few of those we won't really have much more time than just to have a local beer and change trains. But in just about all the others we've got at least several hours or more. We have overnight stop-overs in just five places. We'll capitalize on our midnight arrival in Berlin to enjoy this most hedonistic of destinations. We'll make excellent use of a 24-hour vaporetto pass in Venice. And the sun won't set on us for our 'night' in Narvik.

Along the way, as we rarely will have time to sit down in restaurants, we will be taking on board train picnics to die for. This aspect has taken almost as much research as the train timetable itself. Copenhagen and Budapest have food markets that are destinations in their own right. Brussels boasts some of the continent's finest fromageries, charcuteries and chocolatiers. Stockholm has a dish called a smörgåstårta which is nothing short of a picnic-sized sandwich. We have ideal timings for tapas in both Barcelona and Madrid. Throughout Europe our continent's al fresco cuisine will be celebrated, and toasted, with style.

We've christened this form of travel Tourisme Grande Vitesse. If you've already done most of Europe, but would like an excuse to go on a stupidly long train trip and take a photo of just about every famous building on the continent while you are at it, this approach might appeal to you.

Costs: The whole ticket, including 2 buses in the Balkans, and a short flight in the arctic to tie it altogether, and all sleeper and TGV supplements, costs just over £1,000. That's sensational value. Our five overnight stops cost a total of £100. £30 each, times 13 mouths, gets you a heck of a lot of picnic. So the food bill is estimated at about £500 each. Alcohol consumption is more difficult to predict.
He continues - posted from his blog on http://gcerc.wordpress.com/about/
We've had 12 months now of shunting this about, and have come up with 23 capitals in 16½ days.
The original scheme was as follows :- Travel from Paris to Paris (start in London if you wish), and visit the furthest most extremes of the European railway network, north, south, east and west. Right now, "Europe" is defined as those parts of the continent you can travel through on a European InterRail pass, but we may relent and go all out to Yekaterinburg.
This has now developed into "clock off as many European capitals that you can manage while traveling between London and Istanbul in 15 days. Include the Arctic circle and at least one Swiss mountain spectacular on the trip. i.e we lost Sicily as it was deemed not worth it. Technically Murmansk is further north than Narvik. But now Istanbul has dropped off the map, no trains run there till late 2013 (take that as 2014), but we ended up with an even better plan as a result.
He writes too "The essence of the trip is to do it flat out, and spend every night (bar one special night) on the train. It's just 15 days on the current plan. The special night is the summer solstice at the ever so arctic extreme of Narvik, just a few miles south of the North pole".
Mark has developed micro tours of each city they visit, so when you get off the train you'll be finding you'll be getting on another one, or a tram, and getting the classic snapshot of whatever is the local tourist sightseeing highlight.
Would love to come but don't think you can get the time off ? Stop making excuses.
This is a LIFETIME TRIP - and you've got time to save up and go. He isn't going till summer 2013 - but if you're thinking of joining Mark on his trip, you need to be ... (as he eloquently writes):
Rich, Beautiful, Funny - and preferably all three. Mark isn't a cozy tour rep, making money from this, or working as a nanny for those on the trip. And he and his mates have been working on this trip for 18+ months...
I would recommend offering a donation to the Railway Children Charity that he supported in GCIRC as a starting point too...
BUT... he's a likeable guy - so those interested should look at his blog, and get in touch. See his warning at the end of this post...
For the rest of us Armchair Travellers - save some WOW for Mark and those with the courage and Chutzpah to get out and do something amazing!... share it with a bunch of people... and then set up another trip and do something AMAZING again.
I think it's Fantastic!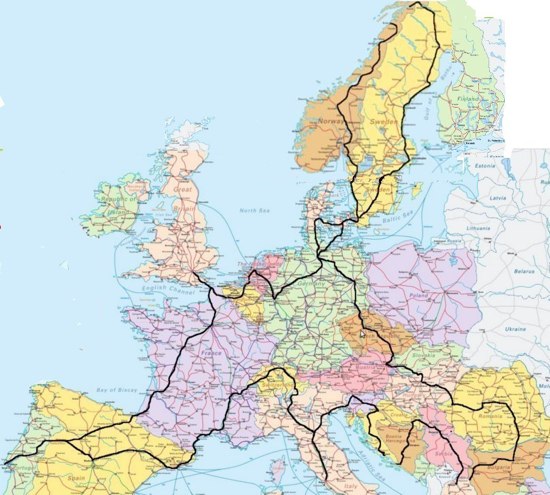 Who Is Invited ?
Nobody I don't know. If I, or anyone else already on the train, doesn't know you from Adam, or you aren't very comfortably off, well travelled, generous, and with a personality to match, then tune out now, this isn't for you. You are welcome though to rip me off and do it yourself. Just don't pick the same ruddy dates as me else we'll be needing Hercule Poirot at some stage.
The group is going to consist of German, Irish, Italian, Bulgarian, American, Indian and a variety of Britishers, and probably a few other nationalities once I've got the demand curve stabilized. Right now everyone on my possibles list has either known me for over 10 years or have at least spent a fortnight on a train with me already. I will consider total strangers, but you'll have to be totally unfazed by the £2,000 budget estimate, very funny and/or very attractive, and not bothered by the fact that everyone else seems to know each other.
:-)