Burning Man Festival
Black Rock Desert
August 27th - September 3rd
This is a completely different experience to anything you could imagine. It is more of a journey, of oneself, than an event per se. It's not actually a festival at all, just a congregation of 50,000 people who each undergo a personal transformation during this period. The man is then burnt on the Saturday night and this marks the end of the festival of surviving, creation, development and experience. To have a clearer view of what I am talking about, you literally have to visit this website <here> (or go to the real thing to truly understand).
Anything can happen at the Burning Man Festival.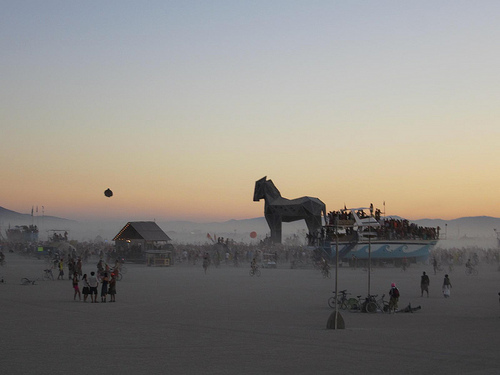 Galway International Oyster & Seafood Festival
28th-30th September, Ireland
Not only is Galway the World's longest running International Oyster festival, but also one of the most recognised international seafood festivals in the world. This weekend of oyster and seafood tasting (accompanied by a cheeky Guinness) in some the greatest restaurants is followed by the renowned 'World Oyster opening Championships' and mardi-gras like processions, then finally (and rather contradictory to an Irish mardi-gras) a series of family events, including music, cooking demonstrations/competitions and fancy dress parties.
Find out all the information here
These two fantastic Dublin hotels not (unfathomably) far from Galway are perfect for the occasion
Great Gorilla Run
22nd September-London
Oh yes the great gorilla run...wait what? Yes every year 'The Gorilla Orginization' promote this 7km run through the City of London to help save the endangered mountain gorillas through all the donations recieved. A bit of fun and helps a real cause. Great for anyone who loves to dress up and run, actually it's perfect! Sign up <here>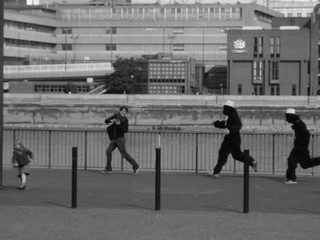 La Mercè -
21st-24th September, Barcelona
A weekend full of traditional and popular cultural events involving all forms of the performing arts and is the festival of the people of Barcelona. Every year a different city of the world is invited to be involved in 'La Mercè' (to better understand the creative panorama of distant cities) and this year it will be Montreal (Canada) who themselves have over 40 international festivals every year. Traditionally there are always musketeers (trabucaires), human castles and the beasts of Barcelona (24th September is the grand feast), among other things and is an intensely eccentric and busy festival.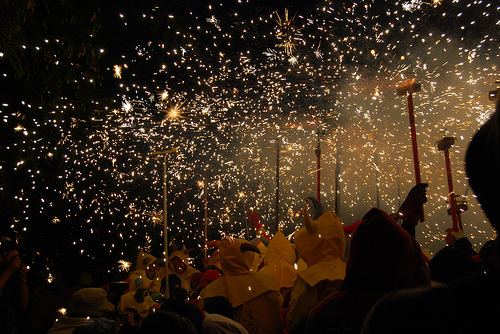 Fantastic hotels in and around Barcelona <here> and <here>
Prohibition Night -
Sat 8th Sept, London
Step back in time to the roaring 20s at a secret venue. Enjoy live bands, cabaret acts, burlesque, showgirls and drinking cocktails from teacups. A strict dress code applies however - in the 20's denim was the workwear for prisoners, and as their website states "trainers are totally inappropriate for dancing the Charleston".
Jamie Oliver's The Big Feastival

Chipping Norton, Oxon, UK - 1st and 2nd Sept
The Big Feastival, presented by Jamie Oliver, returns again as a 2-day family friendly event combining food from some of the country's top chefs with a top drawer selection of live music acts. The Big Feastival this year takes place at Alex James' farm in Chipping Norton raising funds for The Jamie Oliver Foundation to help change the lives of disadvantaged young people. Created as an urban village fete with a music festival vibe, the event offers a day out for the entire family with food included in the ticket price and all kids can go free.

Music Line-up
Confirmed so far are Paloma Faith, Texas, Noisettes, Razorlight, Gaz Coombes, Guillemots, Sister Sledge, Producers, and The Cuban Brothers. More will be announced.
Find out more <here> and camp - or stay <here>
The World Testicle Cooking Championships

31st August - 2nd Septemer, Serbia

Cooking up a storm this year at the 6th annual celebration of cooking these prairie oysters, - and not just bulls. The cooks use testicles from all kinds of animals and birds, including bulls, pigs, ostriches, roosters, kangaroos, or turkeys. We're not sure what Jamie would make of it, but in these times of austerity, perhaps they'll catch on.

Find out more about the BallCup <here>