Oktoberfest
22nd September-7th October-Munich
Octoberfest is a personal Mecca for beer lovers everywhere and any beer fanatic must visit at least once in their lifetime. Essentially a two week festival of experimenting different beers and foods, coupled with the 14 different tents, you are spoilt for choice. It is however fundamental to realise this is not just a two week booze-fest and can be very enjoyable for all ages, with performances and rides happening throughout the whole two weeks (with 2 special family days with discounted prices for these events) and furthermore traditional events such as the religious mass and brass band are not to be taken lightly and are a fundamental part of Oktoberfest. For further details about everything visit their website.
Meanwhile..
Regional Editor Sharla found time during the planning for Oktoberfest to uncover Hotel Achterbahn (Rollercoaster) - 8 rooms for 8 emotions:
Melancholy, Bliss, Presumption, Ecstasy, Relaxation, Fear, Enlightenment and... Flush (huh?)
Their motto goes like this:
A ride on the rollercoaster can be many different things. Jump on . Convince yourself.
FYI : Bliss and relaxation are rooms with 4 beds.
And if you really want to book a Hotel Achterbahn room for Oktoberfest THIS year? Sadly, the answer is: NEIN!

Floriade
1st-7th October-Venlo, The Netherlands
A festival that only happens once a decade is a must visit for anyone, regardless of your interest in Gardening or not. This festival has been running since April 5th, and is THE horticultural festival to visit for anyone with a pair of 'Green fingers' to not only check the newest techniques for growing/nurturing plants, but to simply admire the show. Filled to the brim with not only flower power but street theatre, music and acrobatic performances occurring several times a day. Furthermore, the Sinar Bulan (dancers from Bali) attempts to tell a story and evoke the magic of Bali in its performance, solely for this October period.
For all the information visit their website here.
Be a naturist and stay in a concrete pipe during your stay?
Perhaps stay in one of several Unusual hotels in Brussels?
Halloween
27th-31st October-UK

Whether you are a 'macho' man or a real scaredy cat when it comes to horror, this will send chills up your spine and give you sleepless nights for years to come. From the weekend before Halloween, there are several Ghost hunts, Haunted Sleepovers and Mystic Dinners, that are held in dozens of destinations (including Prisons and Castles) around the country. A true go-to if you want a night you will never (perhaps unwillingly) forget. To book or investigate further click here.

For the faint hearted, why not stay in an Unusual Prison hotel?
Le Printemps de Septembre
28th September-21st October-Toulouse, France

'The Spring of September' celebrates contemporary art throughout the world with over 40 different artists. This year the theme is 'L'histoire est a moi' or 'History belongs to me' and is sure to stimulate some stunning pieces. Their website will have the full programme here.
Near Toulouse there are several Unique and Unusual hotels, perfect for a modern art exhibiton. Click for further details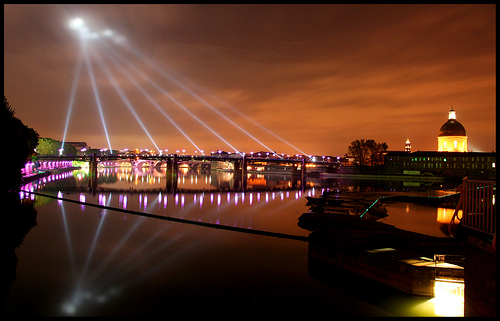 Jazz on the 3rd October - Frankfurt, Germany
The jazz concerts celebrating the Day of German Unity have been very popular with Frankfurt's population, attracting many thousands of revellers from the very start. The idea of "Jazz zum Dritten" ("Jazz on the Third") has proven to be a very good one, confirming the deep roots that jazz still has in the Main metropolis. Frankfurt am Main is known to be Germany's leading centre of jazz music.