The Chap Olympiad 7th and 8th July, London

Taking place in the Georgian beauty of Bedford Square, The Chap Olympiad weekend is a delightful celebration of honest sporting endeavours, live music, side shows and refreshments. One of London's most eccentric sporting events, it includes umbrella jousting, ironing board surfing, martini mixing and the famous pipeathalon which rewards panache as much as sporting prowess.
It's not just taking part - it's taking part with style.
You Me Bum Bum Train
June 21st to August 26th- London
This theatre is one where you don't just witness a show, you are the show. The idea that you are the only 'real' audience member, in that the rest of the crowd are cast members of this theatre, who then lead the sole audience member through a series of wacky and unexpected scenarios, including; Boxing matches (complete with fans and opponents), but only after training for an olympic swimming routine and interviewing real celebrities on your very own talk show. Truly a once in a lifetime opportunity has unfortunately sold out, but with the boundaries between spectator and performer so intimate, it's hardly a big deal as they are looking to hire
Benissa amb Sambor Cultura I Tapes:
8th July 31st July-Benissa,Spain
In a secluded town surrounded by the sea and mountains, there is a great opportunity to not only experience the fantastic cultural history and gastronomy of the area, but the local cuisine and classic dishes too. The name of the tour itself means 'The flavour of Benissa: Culture and Tapas' and is a great opportunity for anyone to visit.
For information on the route and menus click <here>.
To stay in an Unusual hotel during this Unique experience, click <here>
Calgary Stampede: Canada: 6th-15th July 2012
On the 100th anniversary of this traditonal rodeo, it will be bigger and better than ever, with not only the main event (with prices ranging from $12 to $390) feautring the world's best rodeo riders, but also several music performances, horse-chariot racing and even an 850 foot long zipwire!
For all the information click <here>

You can only really stay in a magnificent hotel for such a magnificent event such as <this>

Istanbul Jazz Festival: Turkey: 1st-31st July

This festival represents an enormous variety of music, although predominantly Jazz, there is also classical and rock to grace the streets of Istanbul. A must-go for any avid Jazz fans with lines up from the past including Ray Charles and Dizzy Gillespie. For this and other events in Istanbul visit their site.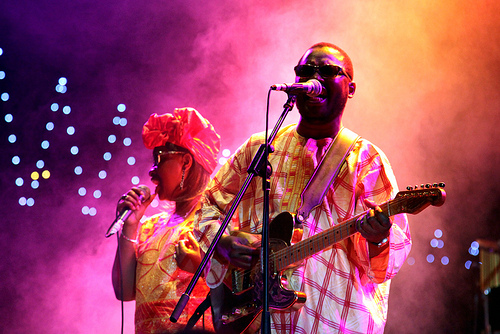 Source: http://www.flickr.com/photos/grizine/
Tall Ships Race - Lisbon - July 19-22
Culminating in 60 historic square rigged ships sailing down the Tejo and back ot the open sea.
Check out this UHOTW property in the region <here>
National Day of Switzerland

31st July / 1st August

Celebrate the national holiday, where Switzerland was actually founded, in the Lake Lucerne Region. The 1st of August is celebrated in style with alpine fires, fireworks, steamboat parades, the National Holiday celebrations on the Rütli and many more traditions and parties. If you think the Swiss are always laid back and relaxed, think again - the Lucern region has great parties!