The UnOlympic Sights…
It would be unfair to miss out London in our list of amazing cities, and while I perhaps run the risk of over-exposure because of all the Olympic activity, thought that I'd write about some of the quirkier and more off-beat places that tempt me and the London members of UHOTW.

Take Your Time!

First and foremost, London is a river city, something that many tourists only remember when they've found themselves in the fumes of a traffic jam. Better to take it slow - walk – and better still, take a boat!

A favourite trip is to take the Catamaran from Waterloo Embankment Pier to Greenwich or the O2. No need for a specialist arranged tour, as you'll generally find that the captains mate gives an unofficial, running commentary. Whilst the commentary is free, I think you'd be overly mean not to give up a couple of pounds for the list of amazing facts reeled out as the boat makes it's passage downstream.
Thick and fast the buildings and their history are highlighted – from the dolphins on the Old Billingsgate Market, to the first Police force, (a maritime one – to counter piracy and cargo theft). The history of bridges, including the famous sale of London (not Tower) Bridge to the USA.
The hour long journey to Greenwich is a treasure trove along the original thoroughfare of the city.
Prices are really reasonable, even more so for Oyster Card holders – and those with a London Underground Travel card save 1/3. Check out Thames Clippers <Here>

Maritime

These river trips always uncover something new - from the bizarreness of one of London's oldest pubs made from the timbers of the Pilgrim Fathers boat – unsurprisingly called the Mayflower, to the reason why Canary Wharf is so named (imports of Tomatoes – from Islas Canarias), there are countless obscure and fascinating facts to entertain you as you speed down river to Greenwich. During August it'll be busy – as it's the location for the Dressage and Horse events, but also home to the recently re-opened Cutty Sark exhibition -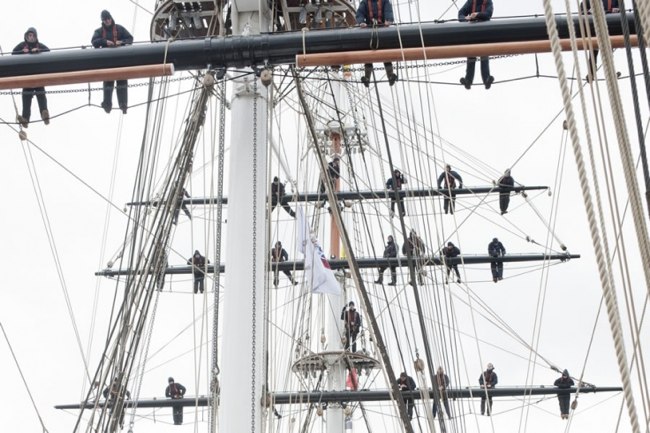 Photo (http://www.rmg.co.uk/cuttysark/)
For hunters of bargain days out – the National Maritime Museum is next door to the Cutty Sark, completely free and great to visit.

Also Free is one of two foot tunnels under the Thames. The Greenwich Foot Tunnel provides a pedestrial link between Cutty Sark Gardens and Island Gardens, Tower Hamlets. They're being refurbished, but are open during the works, with lift (and foot) access. You get to walk under the Thames for free, and if you listen carefully can hear the rumble of the boats above you.

Airtime
If you've chosen to stay on the Clipper as far as the O2 – you should definitely take the opportunity to try out London's latest aerial attraction – the Emirates Air Line Cable car. For the duration of the Olympic events, you can expect it to be busy – as it connects to the Excel centre – one of the games hosting venues – so likely to be packed. However, they promise it has a capacity of 2,500 per hour, so queues are likely to be manageable.

If the idea of queuing leaves you cold – take a peek here
For tickets and information <Click here>

A 360 round trip 'boarding pass' is £6.40 for oyster card holders, though in busy periods may not be available. If you take this trip, you can then pop back on the North Greenwich Jubilee line straight back to where we started in Waterloo.
Bedtime
Fans of Unusual might consider an overnight stay in one of our London Unusual Hotels. When the team are in town we usually stay with Danny Lambo at The Pavilion Hotel in Sussex Gardens. Take the Jubilee to Baker Street, change to the Bakerloo line and exit at Edgeware Road. With it's Rock n Roll rooms and funky decor, The Pavilion is a 10 minute walk from the tube station.
If you're visiting Shoreditch - one of the most vibrant areas of London, check out and check in to Boundary, the Sir Terence Conran designed hotel. As well as 17 designer inspired rooms and an excellent restaurant, the roof terrace is fantastic.

We also stay in Clink78, a converted magistrates court (with prison cell rooms too!), at Kings Cross. They've got some fantastically priced dorm rooms to check out if you don't mind sharing.

Playtime - Don't get fooled !

We've kept the UHOTW entry for the Holiday Out tent hotel in the Olympic Site live. This isn't real. Please stop sending inquiries... it was our 2012 April Fool hotel... enjoyed (?) by 15,000 individuals before we finally explained the joke...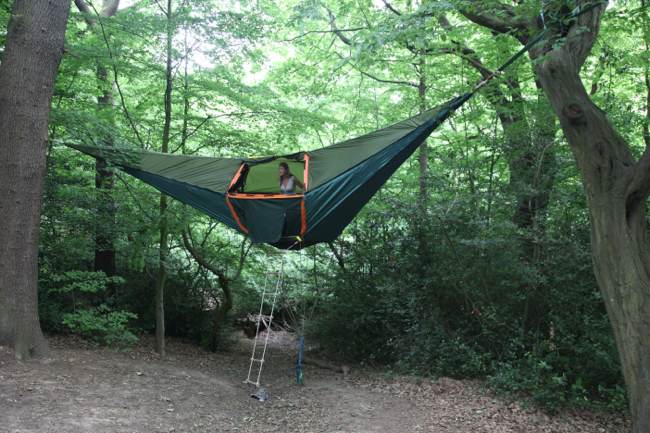 Make Time for Secret London
Finally, for those that appreciate the stories of London and off the beaten track treasures, you would be well advised to read Rachel Howard's excellent Secret London book, available from GoUnusual.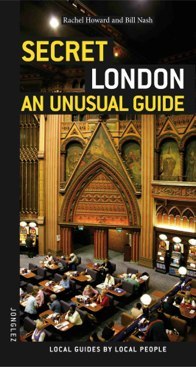 Having had the pleasure of meeting Rachel, listening to her stories and seeing first hand many of her favourites, I promise that you'll find something in it's pages to tempt you.